November 1, 2016 | Ed Boyce
Wine Club Newsletter, November 2016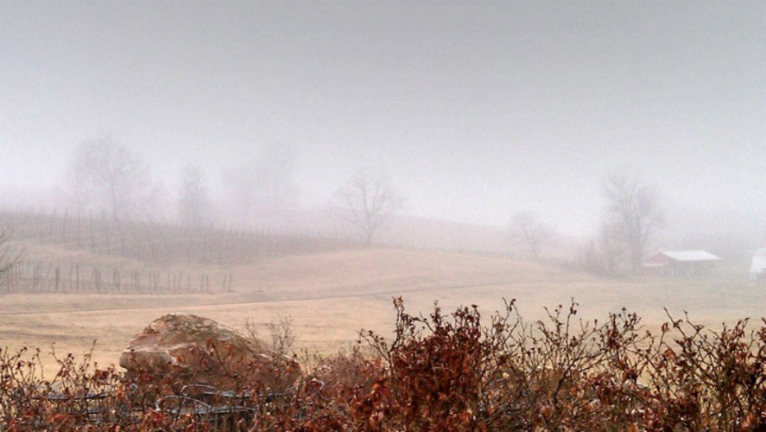 Dear Wine Club Members,
Another harvest is in the winery, and we get to stop worrying about the weather and concentrate on making the best wines we can from what the year has given us. And an excellent year it has been! We had dry weather when we needed it, rain when we needed it, sun and warmth aplenty – in short a very high quality harvest. Our quantities were reduced a bit from 2015, especially in the whites, but those smaller yields led to riper grapes which will help us make better wines.
Our whites have almost finished fermenting and are mostly put away for the winter, but the red wines are still sitting in their fermenters with the skins and seeds. A few years ago, we started experimenting with "extended maceration", a technical term which means leaving the red wines together with the skins and seeds ("pomace") after the fermentation is over. The alcohol in the wine acts as a solvent to release compounds from the pomace; the goal of which is to absorb extra richness and fill in the mid-palate of the wines, while the risk is that the wines become more astringent as the seeds begin to break down and release harsher tannins into the wine. Before I became a winemaker, I would have thought that there was a way to measure these things – just buy an "astringency monitor" and a "mid-palate gauge", hook them up to the wine, dial in the perfect ratio and voila, great wine. Alas, not only do these gizmos not exist, but even if they did, no one agrees on how much astringency is appropriate (too little and the wine is weak, but how much is too much?), so we wouldn't know how to interpret the results they would give. If you go on our winery tour this time of year you may notice little sample bottles on the doorway of the tanks, each labeled with a date. These are samples of the wines from today, 2 days ago, 5 days ago, etc. Sarah and I taste each tank every couple of days and compare the evolution of the wine with the past samples to determine when the maceration period will end (we use those high-tech gizmos known as "taste buds"). This year we are letting the wines stay on the pomace for 3 weeks or more after the fermentation ends, in large part because the skins and seeds are so ripe that we run a much smaller risk of harshness in the wines. If we get the balance right, it is another part of pushing the envelope to try to make better and better wines from our little corner of the world.
So, now to the good stuff! Some highlights about the wines in your November shipment:
The Terra Dulce V, like all our TD's, is a blend of every single wine from every single vintage we have had a BAV. We accomplish that by keeping a stock of TD, adding new wine to it every year, and then bottling 1/3 of it or so, and leaving 2/3 for the next year. This year's version is our best yet, in part because we added less new wine than usual, giving the TD V a higher percentage of long aged wine. This wine is also unique among our offerings in that it can be drunk a little bit at a time without worrying about spoiling – just drink a little, put the stopper back in, put it on a shelf for a day or a week or a month, and it will not only be fine but it might improve a bit! On a more pedestrian note, we have tried bottling it this year with a bar top instead of a regular cork – this is basically a small cork with a plastic top attached to it. The idea behind this is that you can open the bottles by twisting by hand (no corkscrew!) and easily replace the bar top so you can enjoy the wine over an extended period of time without trying to squeeze a regular cork back into the bottle.
The 2015 Albariño Alegría is really coming into its own. For the first time in 2015, we blended our albariños with a bit of viognier to provide better balance (the albariño by itself seemed a bit too acidic and heavy). The viognier was quite noticeable immediately after bottling, but as the wine has aged the albariño has become more and more prominent, bringing it closer in style to our past albariños.
The 2013 Crumbling Rock is one of the easiest wines we've ever to blend. Usually Sarah, Lucien and I try 5-10 or even more blends trying to find just the right combination of elements to make a Crumbling Rock. In 2013, the first blend had us at hello. There is nothing better than a great growing year to make life easy on us! This wine is drinking beautifully right now, but we expect this one to age as long or longer than any wine we've ever made, so don't hesitate to keep it for while if you prefer.
The 2015 Grüner Veltliner is my favorite GV to date. After years of experimenting with the best way to grow and make this wine, we have discovered that even when the fruit looks like it is falling apart on the vine, the flavors are still developing and leaving to hang a bit longer in the vineyard will yield a riper, more mouth-filling wine. After harvesting these grapes later than usual in terms of ripeness, we fermented the juice 100% in stainless steel to preserve its freshness and delicate aromas. It took a little extra nerve and patience to make this wine, but it has proved well worth it.
We hope you enjoy this beautiful fall, that each of these wines adds a little to that fun!
Cheers,
Ed (and Sarah)
Comments
Commenting has been turned off.