News
Welcome to the Black Ankle blog! Check back here from time to time to read about news, events, and special releases! This is your blog page, add intro text before through the content management tools or add blog posts through the blogging tools: Learn about adding/editing blog posts, or Learn about editing the text. This page could be repurposed for news only - which works pretty well.
Dear Wine Club Members,
Heads up, some gratitude coming your way: Spring at Black Ankle Vineyards is a time of rebirth – vines waken after a long winter's sleep, new wines get blended and bottled, and new ideas hatched over the winter break get trialed in the vineyard and winery. But for many of us personally it is also the season of reunions, at which we get to look back on life at schools attended long ago and see what has transpired in the lives of old friends. Many of them have gone on to do interesting and fulfilling things, but every time I go to a reunion I am reminded that I have a really, really great job.

Working in the vineyard lets me get dirty, sun-tanned and tired after a long day, while working in the winery around the smells and tastes of wine all day is a great pleasure. Then I get to work with some of the finest employees we could ever ask for to create a special experience for our customers, whose smiles light up our tasting room. Every day brings a new challenge, so it never gets boring. How great is that! I just wanted to use this space to express my gratitude to you, our wine club members, for supporting us in our journey to build a world class winery in Maryland. As a result of your loyalty and patronage, we get to hire some phenomenal employees, work outside in the most beautiful "office" imaginable, and go home at the end of the day exhausted but fiercely proud. You have our eternal gratitude.

Cheers!

Ed and (Sarah)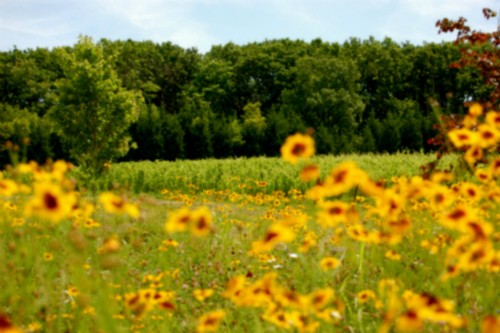 Dear Wine Club Members,
All the way back in 1994 when I was just beginning my love affair with wine, I read about a winemaker from Burgundy by the name of Lalou Bize Leroy. She had been co-manager of the famed Domaine de la Romanée-Conti, makers of some of the finest and most expensive wines in the world, but left to make her own wines at Domaine Leroy. After reading about her methods and wine philosophy, which favored elegance and a sense of place, I was determined to try some of her wines. The only problem was that even then, her best wines sold for many hundreds of dollars a bottle and were extremely hard to find. I finally tracked down a store in Chicago (not easy in the pre-internet age) which had the Domaine Leroy 1992 Volnay Santenots for $60/bottle, one case minimum – an awful lot of money for those days, but I took a flyer and ordered one since it was by far the cheapest wine I had found from her estates.
Red Burgundy is made from the Pinot Noir grape, which is notoriously finicky and difficult to work with. It is the canary in the coal mine for everything that can go wrong in the vineyard and in the cellar: when it rains too much you get rotten or weak wine; if the weather at flowering is less than ideal, 2/3 of the crop will disappear; and if your cellar practices aren't perfect, the wine can easily turn to vinegar. 1992 turned out to be one of "those years". Jancis Robinson said of the 1992 Burgundies, "Rain at the wrong time again. Soft, tender wines to drink young". Decanter was even more to the point: "A large vintage of relatively light if not unpleasant wines. Drink soon." Oops. "Not unpleasant" is the kiss of death for a wine, no? But I had already bought them, so after waiting a few months for the wine to settle down I opened one. It was love at first sip – one of the finest wines I have ever had. Despite the fact that it came from a very good but not world-famous vineyard and that 1992 was considered a very poor vintage in Burgundy, this wine was phenomenal. It got me wondering why the conventional wisdom about wine growing could be so wrong sometimes.
Fast forward to 2017, 16 years after that wonder eventually turned into our experiment in bucking the conventional wisdom - Black Ankle Vineyards. We get very caught up in the day to day work of growing and making wine, and sometimes don't take the time to sit back and remember what got us here in the first place. A few weeks ago, Sarah and I opened one of our two remaining bottles of that 1992 Leroy Volnay Santenots. 25 years old, and it still had beautiful fruit and great mouthfeel. Drink soon? Drink young? I don't think so. Drinking that wine once again inspired us to re-examine everything we do and see if we can bring our wines up to another level. It is one more reason I love wine – I've never been inspired by a glass of milk.
Below are some of the newest releases from Black Ankle:
2015 Chardonnay: This 100 percent Chardonnay is complex and aromatic, demonstrating floral, tropical fruit and citrus aromas and flavors, with toasty and honeyed notes rounding out the finish. It is mouth-filling and lush with a long minerally finish. This wine is barrel-fermented, leaving you with a light and clean oak flavor profile. We produced just over 300 cases.
2015 Bedlam: Our Bedlam white blend has become well-known throughout our customer base as the "red wine drinker's white wine". This year's blend is a blend of four white wines, at 40% Viognier, 33% Albariño, 19% Chardonnay, and 8% Grüner Veltliner and were co-fermented in tank during our 2015 harvest season. On the nose the Bedlam shows beautiful floral and sweet citrus notes with a hint of ripe apricot and lemongrass. On the palate it is honeyed and lush, with a beautiful and lively mouthfeel. Tropical flavors lead to a long, warm spicy finish. We made 350 cases of this vintage.
2015 Phyllite: Our newest rendition of Phyllite is one of the best we have produced. This 100% Syrah boasts aromas of dark fruit, violet, leather and tobacco supported by flavors of earthy plum, cherry and vanilla spice. It has refined tannins and an old world elegant mouth feel. The 2015 growing season overall was almost perfect, creating complex wines with elegant smoothness and wholeness on the palate – and the Phyllite will not disappoint! We made just under 350 cases of this premium wine.
Thank you and we hope you enjoy them!
Ed (and Sarah)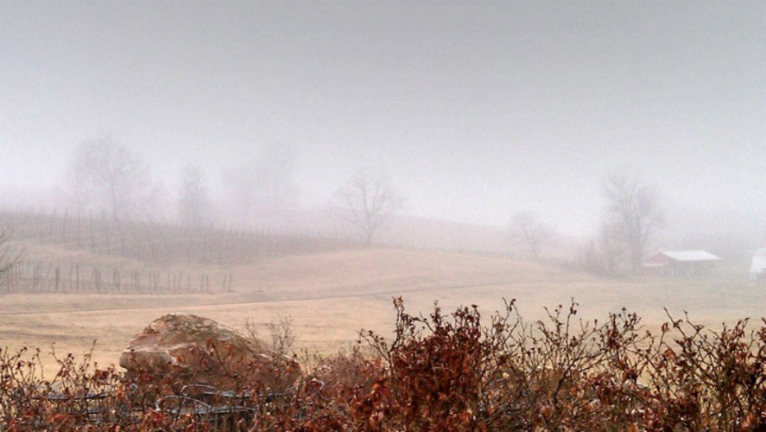 Dear Wine Club Members,
Another harvest is in the winery, and we get to stop worrying about the weather and concentrate on making the best wines we can from what the year has given us. And an excellent year it has been! We had dry weather when we needed it, rain when we needed it, sun and warmth aplenty – in short a very high quality harvest. Our quantities were reduced a bit from 2015, especially in the whites, but those smaller yields led to riper grapes which will help us make better wines.
Our whites have almost finished fermenting and are mostly put away for the winter, but the red wines are still sitting in their fermenters with the skins and seeds. A few years ago, we started experimenting with "extended maceration", a technical term which means leaving the red wines together with the skins and seeds ("pomace") after the fermentation is over. The alcohol in the wine acts as a solvent to release compounds from the pomace; the goal of which is to absorb extra richness and fill in the mid-palate of the wines, while the risk is that the wines become more astringent as the seeds begin to break down and release harsher tannins into the wine. Before I became a winemaker, I would have thought that there was a way to measure these things – just buy an "astringency monitor" and a "mid-palate gauge", hook them up to the wine, dial in the perfect ratio and voila, great wine. Alas, not only do these gizmos not exist, but even if they did, no one agrees on how much astringency is appropriate (too little and the wine is weak, but how much is too much?), so we wouldn't know how to interpret the results they would give. If you go on our winery tour this time of year you may notice little sample bottles on the doorway of the tanks, each labeled with a date. These are samples of the wines from today, 2 days ago, 5 days ago, etc. Sarah and I taste each tank every couple of days and compare the evolution of the wine with the past samples to determine when the maceration period will end (we use those high-tech gizmos known as "taste buds"). This year we are letting the wines stay on the pomace for 3 weeks or more after the fermentation ends, in large part because the skins and seeds are so ripe that we run a much smaller risk of harshness in the wines. If we get the balance right, it is another part of pushing the envelope to try to make better and better wines from our little corner of the world.
So, now to the good stuff! Some highlights about the wines in your November shipment:
The Terra Dulce V, like all our TD's, is a blend of every single wine from every single vintage we have had a BAV. We accomplish that by keeping a stock of TD, adding new wine to it every year, and then bottling 1/3 of it or so, and leaving 2/3 for the next year. This year's version is our best yet, in part because we added less new wine than usual, giving the TD V a higher percentage of long aged wine. This wine is also unique among our offerings in that it can be drunk a little bit at a time without worrying about spoiling – just drink a little, put the stopper back in, put it on a shelf for a day or a week or a month, and it will not only be fine but it might improve a bit! On a more pedestrian note, we have tried bottling it this year with a bar top instead of a regular cork – this is basically a small cork with a plastic top attached to it. The idea behind this is that you can open the bottles by twisting by hand (no corkscrew!) and easily replace the bar top so you can enjoy the wine over an extended period of time without trying to squeeze a regular cork back into the bottle.
The 2015 Albariño Alegría is really coming into its own. For the first time in 2015, we blended our albariños with a bit of viognier to provide better balance (the albariño by itself seemed a bit too acidic and heavy). The viognier was quite noticeable immediately after bottling, but as the wine has aged the albariño has become more and more prominent, bringing it closer in style to our past albariños.
The 2013 Crumbling Rock is one of the easiest wines we've ever to blend. Usually Sarah, Lucien and I try 5-10 or even more blends trying to find just the right combination of elements to make a Crumbling Rock. In 2013, the first blend had us at hello. There is nothing better than a great growing year to make life easy on us! This wine is drinking beautifully right now, but we expect this one to age as long or longer than any wine we've ever made, so don't hesitate to keep it for while if you prefer.
The 2015 Grüner Veltliner is my favorite GV to date. After years of experimenting with the best way to grow and make this wine, we have discovered that even when the fruit looks like it is falling apart on the vine, the flavors are still developing and leaving to hang a bit longer in the vineyard will yield a riper, more mouth-filling wine. After harvesting these grapes later than usual in terms of ripeness, we fermented the juice 100% in stainless steel to preserve its freshness and delicate aromas. It took a little extra nerve and patience to make this wine, but it has proved well worth it.
We hope you enjoy this beautiful fall, that each of these wines adds a little to that fun!
Cheers,
Ed (and Sarah)