News
Welcome to the Black Ankle blog! Check back here from time to time to read about news, events, and special releases! This is your blog page, add intro text before through the content management tools or add blog posts through the blogging tools: Learn about adding/editing blog posts, or Learn about editing the text. This page could be repurposed for news only - which works pretty well.
Dear Black Ankle Wine Club Members,
Rocks, rocks, rocks, rocks, rocks. Sometimes we get a little obsessed, but if you are into vineyard soils in our region you can never get enough of rocks. Grapes can grow nearly anywhere, but the grapes that make the best wines need to work hard. Rocky soils mean less water and nutrient for the vines, which struggle to survive and as a result make more interesting wines. As I recently heard it so elegantly put, grapes are like people – the ones that have struggled in life have the best stories to tell. And we want nothing if not wines with stories to tell. Therefore, our little obsession with rocks.
We have spent much of the last two years in search of more rocks. In early 2016, since we had already planted most of the vineyard land at Black Ankle, we decided that the time had come to look for some more growing locations. This has involved pouring over topo maps, reading soil surveys and scouring hillsides to look for the rockiest, lousiest soils that we could find. Last fall, we hit the motherlode – not one, but two farms that seemed too good to pass up. Each had its own personality and points of interest, so we decided to take the leap and buy them both. We purchased one in December and one in January. It has been an exciting winter for us!
One farm is just North of Westminster in Carroll County, and looks like it will be an excellent growing location for our difficult reds, like Cabernet Sauvignon and Syrah. The other property is in Clarksburg, in central Montgomery County and will be home to several red varieties as well as whites for both still and sparkling wines. It is also easy to get to, so we are planning a whole new sales and tasting facility there – stay tuned for more information on that! (Best case scenario, it will open in 2023, so mark your calendars!)
So, back to the rocks…we spent an awesome, if very chilly, day early in March digging soil pits on the Carroll County farm with a geologist who specializes in vineyard soils and is helping us to build a detailed map of our soils. I had never seen a geologist jump up and down in excitement before, but we did that day as he looked at the huge pile of rocks that is what passes for soil on that farm. One hole was rockier than the next and the array of colors and textures that we pulled from the ground was amazing. I couldn't resist pulling out samples, and my kitchen counter is currently covered in a rainbow array of rocks. Perhaps the coolest find was when we cracked open a sample rock and found perfect black pyrite crystal cubes, nicknamed Devil's Dice. It was like discovering a secret treasure. We can't wait to discover what wine treasures this farm will be able to produce in the coming years. If the piles of rocks that we found are any indication, our wines will have some great stories to tell!
Below is a list of some of the wines that are included in our allotment this go around:
2016 Viognier
Weighty and beautifully balanced, this wine is rich and luscious with aromas and flavors of tropical fruits, honeysuckle, and citrus. There is a creamy, honeyed characteristic to this wine that rounds out the minerality and a hint of white pepper on that long finish. We produced 325 cases.
Aromas: floral, tropical fruit, honeysuckle, pineapple and banana
Palate: honeyed and creamy, tropical fruits: guava, pineapple, banana with hints of ripe pear and apricot. Mineral and a trace of white pepper on the long finish
2015 Leaf-Stone
The 2015 Leaf-Stone is an exceptional wine. At 100% Syrah it clearly represents what Black Ankle's soils can do with this distinct Rhône variety. With balanced length, mouth feel, and flavor, the 2015 Leaf-Stone is both bold and refined. We produced a tiny 225 cases, and are sold out of this wine except for what we are holding in your allotment.
Aromas: Dark fruits swirled with a hint of earthiness. Black currant, blackberry, licorice, spice, sweet tobacco, pepper, and a hint of cured meat.
Palate: Black currant, black cherry, vanilla, blackberry, tobacco, black pepper, mineral, and plum. Finish is long, warm, and peppery.
2015 Crumbling Rock
We just can't get enough of this wine. One of our signature Bordeaux-Style blends, the 2015 Crumbling Rock is rich and lush, while elegant and sophisticated. It is smooth drinking with a refined tannin structure. We think this wine has tremendous age ability, and we would recommend laying it down for a while (although it is tasting lovely now if you can't wait). We produced 1,210 cases.
Aromas: Earthy notes lead into black plum, sweet wood/tobacco, black cherry, vanilla, cranberry notes with a hint of dried herbs and licorice. There is also a tease of floral (violet) aromas as it warms up.
Palate: Dark fruit flavors of plum, black currant, blackberry and cranberry interspersed with cedar, graphite, ending with pepper spice and some mineral notes. Very nice viscosity and finish, full bodied.
Cheers,

Sarah (and Ed)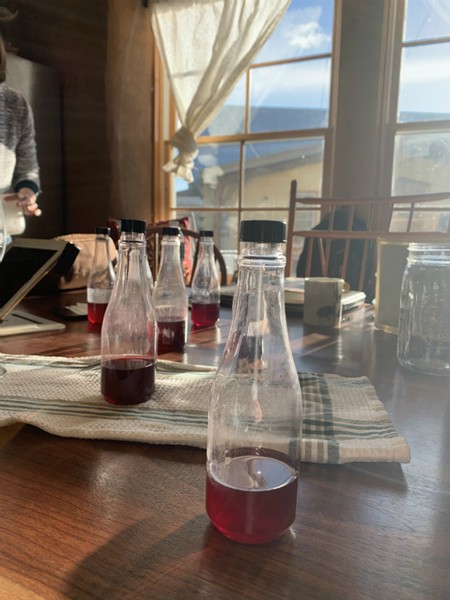 We are delighted to announce the official release of the 2018 Rolling Hills and 2018 Passeggiata. Of all the wines we have made so far in this Black Ankle adventure, these are the wines of which we are the proudest. Not because they are the tops in terms of richness, depth or concentration (the last few Estates or Crumbling Rocks will knock them out of the water), but they were the biggest test of our abilities, creativity and energy as winemakers. Despite the curveball that was the 2018 growing season, we think they are really delicious.
We are always considered a fairly wet wine region, with an average rainfall of 40 inches per year, but in 2018 we had over twice that amount - more than 80 inches of rain fell, much of it concentrated during the growing season. All that rain meant that the grapes struggled to get ripe and build the concentration that we strive for in our wines.
To add to the challenge, once the grapes were finally ready to pick, they were thin-skinned and very fragile. It took very careful handling, including lots of bleeding (pulling off some juice very early to concentrate what is left), radical sorting (we ended up with less than 40% of our normal red wine production), cooler fermentations, and special treatment in the winery to get the wines into shape.
We also took advantage of one of our favorite tools - blending. We spent hours mixing and matching the various lots we had and took advantage of the fact that we are able to add up to 15% of wine from another vintage, using some of our stash of 2017's to add richness and depth to the final wines.
Finally, we took the best lots, which in a normal year would have gone to Estate, Crumbling Rock, Slate, Feldspar, etc., and put them into the Rolling Hills and Passeggiata.
The resulting wines feel like a miracle to us after what nature threw our way! Each time we sit back with a glass of one of these wines, we are proud of the fact that we were able to produce something worthy of our label - and grateful that so far, 2019 is making life much easier on us.