March 18, 2021 | Ed Boyce
Winter Newsletter 2021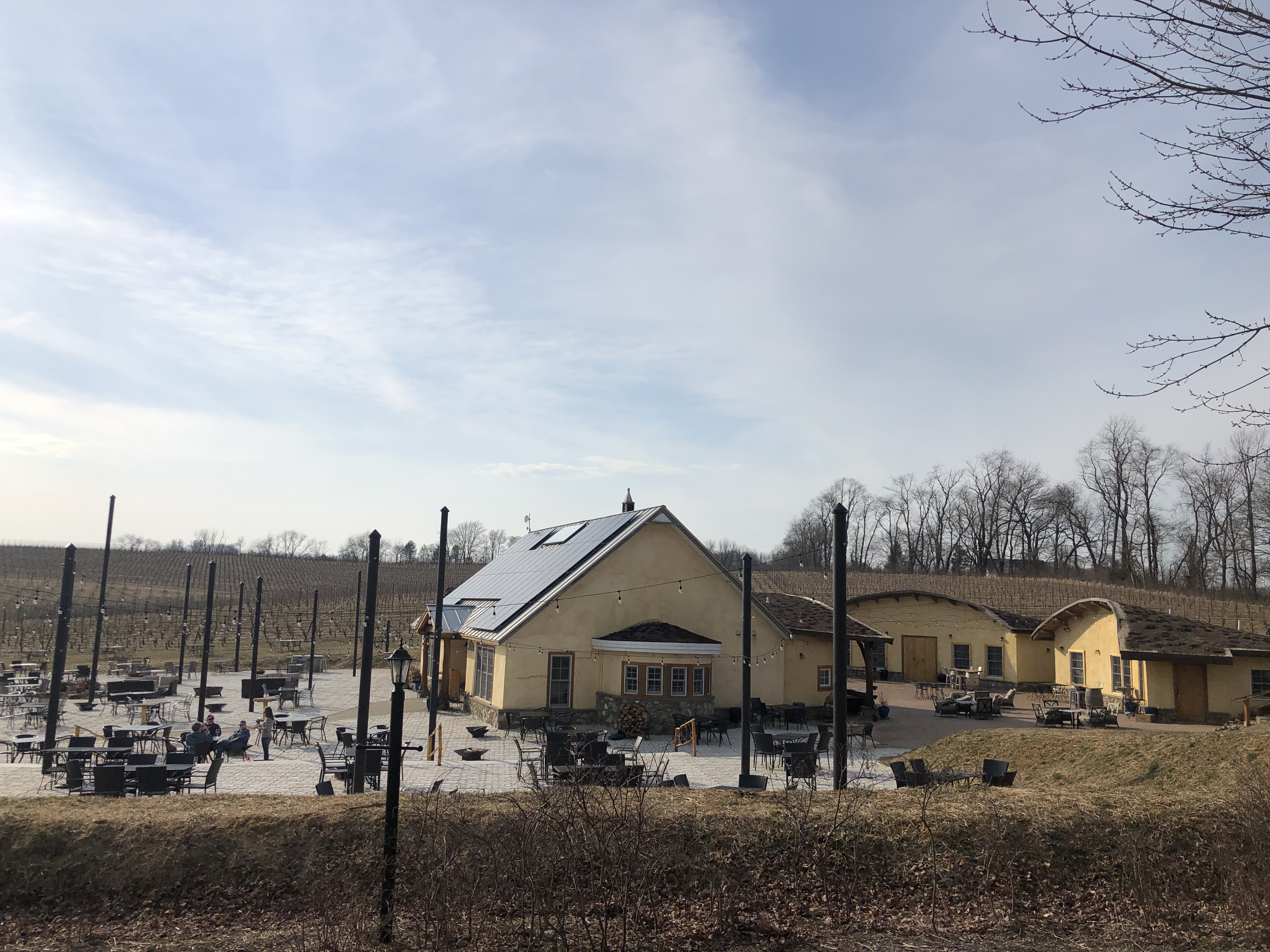 Sarah and I are certainly optimists, but are we right to be? I guess when you start a vineyard and winery in Maryland, you have to be an optimist. Summer rains, fall hurricanes, cold winters, potential early or late frosts and hungry birds and deer are all part of the package here. And on top of these attributes, we are in the native region for 4 of the 5 most destructive grape diseases. Sometimes we feel like we have it all - unfortunately. Some in world of wine think it is folly to grow grapes in the Mid-Atlantic. We heard this countless of times before we started Black Ankle, and we continue to hear or read it all the time. It has never really made sense to us – of course it is not easy to grow world class grapes in Maryland, but is it easy anywhere? We have never thought so every region has its challenges, and we believe ours are not much greater than what other growers face, especially if we carefully do our homework and prepare for the challenges we know will come. Aside from the difficulties that our region throws at us, we also have some great soils, excellent temperatures for ripening a wide variety of grapes, and many other small, but important, advantages that allow us to make the quality of wine that you expect from Black Ankle. So, was it good planning, or wishful thinking that made us choose this place?
For us people, 2020 was dominated by everything Covid, but the vineyards of the world went through their life cycle unbothered by what we humans were dealing with. And as crazy a year as the humans had, the vineyards might have had an even crazier one. It started with the European Ice Wine crop being a total failure, as it never got cold enough in January or February to freeze the grapes. As spring began in the Eastern US, late frosts caused serious damage in many areas, resulting in no 2020 crop for many vineyards in low lying or early budding areas. After a relatively quiet summer grape-wise, enormous wildfires hit the West Coast, and thousands of acres of grapes were destroyed outright or spoiled by smoke being absorbed by ripening grapes. And just as harvest was wrapping up in the northern hemisphere, a very early hard freeze in much of the Texas wine country saw temperatures dropping from the 70's to the teens overnight, freezing nascent buds which were not yet acclimated to winter temperatures and eliminating all or most of what should have been the 2021 crop. It was a tough year to be a grapevine – or a grape farmer.
But back here in Maryland, through a combination of good luck and good planning, we escaped the frosts, the fires, and the freezes to harvest one of the best crops we have ever had at BAV. All these disasters reminded us both how fragile the world of farming can be, but also how lucky we are to have chosen an especially resilient spot to plant our vineyards. It turns out that growing world class grapes is difficult everywhere. Maybe that is partly why it is so very satisfying when everything comes together, and the year's harvest rewards all the hard work. 2020 is a year a lot of people would like to forget, but we are delighted that we will have at least one reason to cherish it – our 2020 vintage, which we hope to be able to share with you in a back-to-normal world. Or is that just wishful thinking?
Whatever 2021 has is store for us, we wish you all the best in the new year.
Cheers,
Ed (and Sarah)
Comments
Bangalore Call Girl
@ Mar 30, 2021 at 2:23 AM
I wanted to thank you for this great read!! I definitely enjoying every little bit of it I have bookmarked you to check out new stuff.
Jaipur Escorts
@ Jun 2, 2021 at 6:01 AM
This is a wearisome post and the course by which you express your start and end post subtleties that is too good. Thanks for offering us this focal post.
http://www.jaipurescortsservices.co.in/
http://www.vipjaipurescorts.com/
http://www.escortsservicesinjaipur.com/
Call Girls in Jaipur
@ Jun 2, 2021 at 6:02 AM
Your articles are to an incredible degree confusing and I got a tremendous measure of data and heading understanding them Awesome Blog! you'd an extraordinary activity in your article. The substance is unreasonably wonderful.
http://www.kamyaagnihotri.com/
http://www.jodhpurescorts.org.in/
http://www.jaipurescort.net.in/
http://www.jaipurescortsnight.in/
http://www.escortsservicejaipur.com/
Escort Girl London
@ Jul 5, 2021 at 5:46 AM
I am never looking on the web for articles that can interface with me and this is one of them. This is a spread that usually enhances remotely controlled blogs. The entire article is wonderfully surprising and purposefully created.
Escort in London
@ Jul 5, 2021 at 5:47 AM
This is the amazing post you have shared, I have to provide you with the total information about the need. There are some virgins in our agency, who do not waste time and stop booking any of the juiciest girls, never stop booking when you see girls from our agencies.
London Escort Agency
@ Jul 5, 2021 at 5:48 AM
This is only one place where you can complete your sexual dreams in courtesy. Which you can don't forget our memories in the future. In London, you can get the best sexual pleasure with any type of girl.
ankita takur
@ Jul 15, 2021 at 10:09 AM
Mumbai Escorts gives You 100% satisfaction at cheap rate!
Lomas karlo
@ Jul 18, 2021 at 9:31 PM
great work with great content, I am new to your site and I want to say that it is so attractive to see.
Jaipur Escort
@ Aug 5, 2021 at 11:31 PM
Nice to be visiting your blog again. This blog is very attractive to me. I got it to understand the article shared by your website.
http://www.diptisharma.co.in/
http://www.escortsfair.in/
http://www.royalescorts.biz/
http://www.suzidiselva.biz/
https://www.soniyachauhan.net/
Escort in Jaipur
@ Aug 5, 2021 at 11:32 PM
There is so much in this article that I would never have thought of on my own. Your content gives readers things to think about interestingly.
https://www.celebrityescortsinjaipur.com/
http://www.escortsinjaipur.co.in/
https://www.hotescortsjaipur.in/
http://www.modelescortsinjaipur.com/
http://www.hotescortsjaipur.co.in/
Jaipur Escorts Service
@ Aug 5, 2021 at 11:33 PM
I'm very grateful to the author, this changed my thought. I'm looking forward to acknowledging this website as one of the best for new information.
http://www.jaipurprimeescort.com/
http://www.lip2lip.in/
http://www.anjlikapoor.in/
http://www.alicja.in/
http://www.vipjaipurescorts.com/
safnish
@ Aug 27, 2021 at 12:13 AM
if you are in Lahore and think about making something with hot and sexy Call girls in Lahore. Our models and the actress take great care of your customers and know the sensuous parts of your body where you are gently pressed to provide you with the best way of life.
vmaya
@ Sep 4, 2021 at 4:46 AM
Escorts service in Jaipur, the fresh arrival is here must watch it and take it for yourself.
https://hotescortinjaipur.blogspot.com/ https://hotFemaleescortsjaipur.blogspot.com/ https://hotFemaleescortinjaipur.blogspot.com/ https://hotjaipurcallgirlsservice.blogspot.com/ https://hothousewifejaipurescorts.blogspot.com/ https://hotjaipurFemaleescort.blogspot.com/ https://hotjaipurFemalesescort.blogspot.com/ https://hotjaipurFemalesescorts.blogspot.com/ https://jaipurhotFemalesescorts.blogspot.com/ https://jaipurhotFemaleescorts.blogspot.com/ https://jaipurhotFemaleescort.blogspot.com/ https://hotjaipurescortsservices.blogspot.com/ https://hotjaipurescortsservice.blogspot.com/ https://hotjaipurescortservice.blogspot.com/ https://hotjaipurescortservices.blogspot.com/ https://hotjaipurescort.blogspot.com/ https://hotFemalejaipurescorts.blogspot.com/ https://hotFemalesjaipurescorts.blogspot.com/ https://hotFemalesjaipurescort.blogspot.com/ https://Femaleshotjaipurescorts.blogspot.com/ https://Femalehotjaipurescorts.blogspot.com/ https://Femaleshotjaipurescort.blogspot.com/ https://Femalehotjaipurescort.blogspot.com/ https://hotFemalesjaipurescortsservices.blogspot.com/ https://hotFemalejaipurescortsservices.blogspot.com/ https://hotFemalejaipurescortservices.blogspot.com/ https://hotFemalejaipurescortservice.blogspot.com/ https://hotFemalesescortsservicejaipur.blogspot.com/ https://hotFemaleescortservicejaipur.blogspot.com/ https://hotFemaleescortservicesjaipur.blogspot.com/ https://jaipurescortshotservices.blogspot.com/ https://jaipurescorthotservices.blogspot.com/ https://jaipurescortshotservice.blogspot.com/ https://jaipurescorthotservice.blogspot.com/ https://hotescortsservicesjaipur.blogspot.com/ https://hotescortservicesjaipur.blogspot.com/ https://jaipurFemaleescortshotservice.blogspot.com/ https://jaipurFemalesescortshotservices.blogspot.com/ https://jaipurFemalesescortshotservice.blogspot.com/ https://jaipurFemaleescorthotservice.blogspot.com/ https://massagejaipurescortsservices.blogspot.com/ https://hotescortsservcieinjaipur.blogspot.com/ https://massagejaipurescortservices.blogspot.com/ https://massagejaipurescortservice.blogspot.com/ https://jaipurescortsmassageservices.blogspot.com/ https://jaipurescortsmassageservice.blogspot.com/ https://jaipurescortmassageservices.blogspot.com/ https://jaipurFemalesescortsmassageservice.blogspot.com/ https://jaipurFemaleescortsmassageservice.blogspot.com/ https://jaipurfemalseescortservice.blogspot.com/ https://housewifejaipurescorts.blogspot.com/ https://houswifejaipurescort.blogspot.com/ https://housewifejaipurescortsservices.blogspot.com/ https://hotcallgirlsjaipur.blogspot.com/ https://hotcallgirlinjaipur.blogspot.com/ https://hotescortsgirlsinjaipur.blogspot.com/ https://hotescortgirlsinjaipur.blogspot.com/ https://hotescortsgirlinjaipur.blogspot.com/ https://hotescortgirlinjaipur.blogspot.com/ https://hotjaipurcallgirl.blogspot.com/ https://jaipurhotcallgirl.blogspot.com/ https://hotjaipurcallgirlsservices.blogspot.com/ https://hotjaipurcallgirlservices.blogspot.com/ https://jaipurhotcallgirlsservices.blogspot.com/ https://jaipurhotcallgirlservices.blogspot.com/ https://jaipurhotcallgirlservice.blogspot.com/ https://hotcallgirlsserviceinjaipur.blogspot.com/ https://hotcallgirlsservicesin.blogspot.com/ https://hotcallgirlservicesinjaipur.blogspot.com/ https://hotcallgirlserviceinjaipur.blogspot.com/ https://callgirlsservicesinjaipur.blogspot.com/ https://callgirlservicesinjaipur.blogspot.com/ https://housewifeescortsservicesinjaipur.blogspot.com/ https://housewifeescortservicesinjaipur.blogspot.com/ https://housewifeescortserviceinjaipur.blogspot.com/ https://housewifeescortsserviceinjaipur.blogspot.com/ https://massgajaipurescorts.blogspot.com/ https://massagejaipurescort.blogspot.com/ https://massageescortsinjaipur.blogspot.com/ https://massageescortinjaipur.blogspot.com/ https://massagejaipurescortsservice.blogspot.com/ https://massagejaipurcallgirls.blogspot.com/ https://massagejaipurcallgirl.blogspot.com/ https://massagecallgirlsinjaipur.blogspot.com/ https://massagecallgirlinjaipur.blogspot.com/ https://massageservicesinjaipur.blogspot.com/ https://massageserviceinjaipur.blogspot.com/ https://collegeFemaleescortsinjaipur.blogspot.com/ https://collegeFemaleescortinjaipur.blogspot.com/ https://collegeFemalejaipurescorts.blogspot.com/ https://collegeFemalejaipurescort.blogspot.com/ https://collegeFemalejaipurescortsservices.blogspot.com/ https://collegeFemalejaipurescortservices.blogspot.com/ https://collegeFemalejaipurescortservice.blogspot.com/ https://collegecallgirlinjaipur.blogspot.com/ https://collegecallgirlsserviceinjaipur.blogspot.com/ https://jaipurFemaleescortsservices.blogspot.com/ https://hotFemaleescortsinjaipur.blogspot.com/
Udaipur Escorts
@ Sep 5, 2021 at 4:19 AM
In any case, if from all that norm to pick just one of the centers spread out, that would truly be that of inventive keen