September 1, 2021 | Sarah O'Herron
Summer Newsletter 2021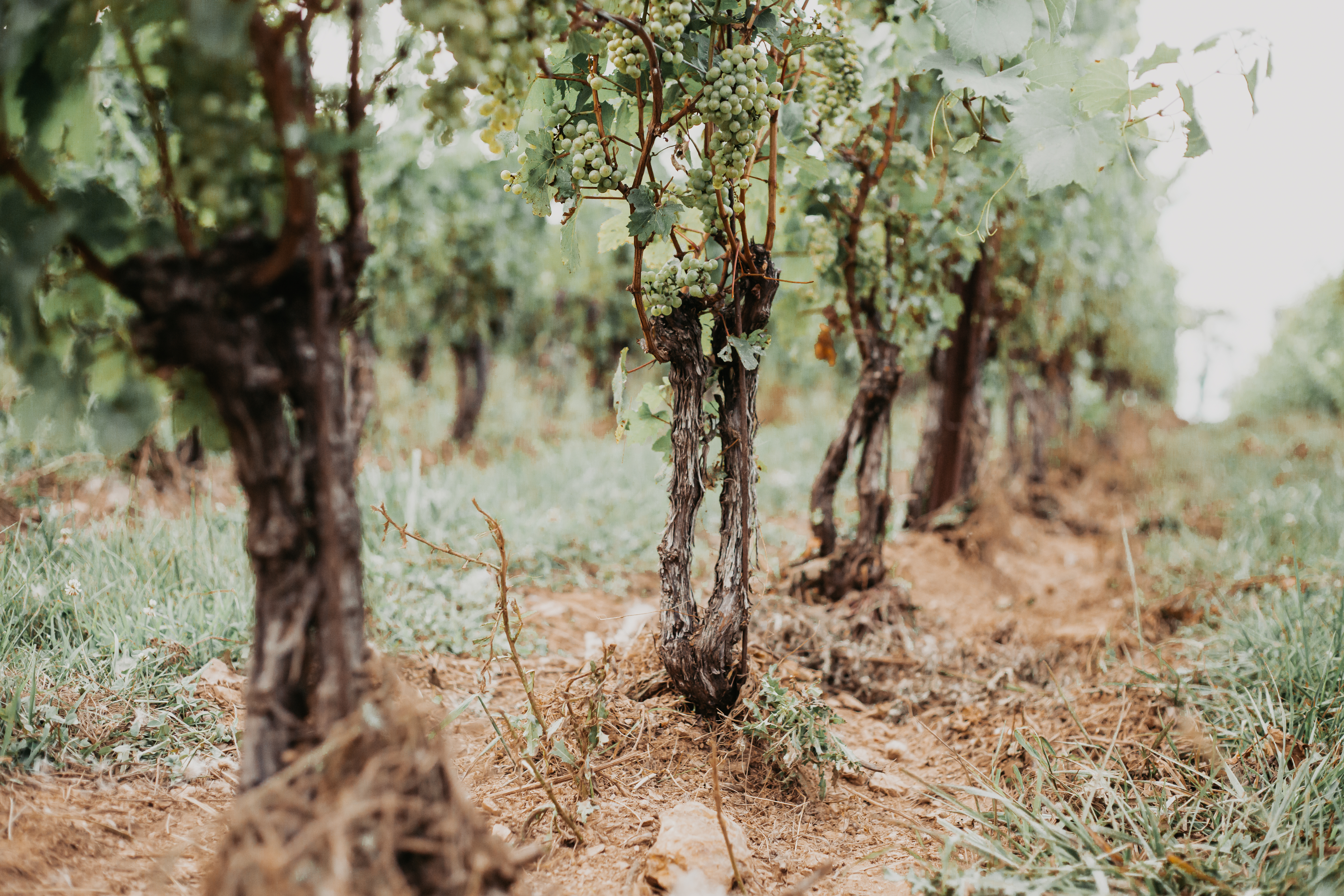 Over the past few months, I have made the round of Career Days at our kids' schools, and it seems that everyone's favorite question is "What is the best and worst part of your job?" I have the same answer to both questions: It is never boring! There is always some new way of doing things to try, some new problem to solve or an experiment to play with. Our latest big experiment is field grafting. Nearly all grape vines in the world are grafted, with European-style vines fused to hardier American roots that can withstand phylloxera, a tiny soil bug that is native to North American soils and now found throughout the world. Up until now at Black Ankle, we have always planted vines that were grafted in a nursery and planted only once the grafts had been established. The downside of this approach is that there is an 18-month lead time to between vine order and delivery, since bench-grafting, as this style is called, is a long process. The vines also tend to establish slowly as different roots and tops are trying to work together to acclimate to their new growing environment.
With field grafting, just the root is initially planted, and the scion (the part of the vine that determines the variety) is grafted on only after the roots have been in the ground for a year. This offers the advantage of giving the roots time to grow and get strong before they need to assimilate a graft. Since rootstock varieties are native to our area, they are also much more disease resistant and winter tolerant than the vines will be once they are grafted. In 2018, we planted 8 acres of rootstock at Black Ankle and 5 acres at our new Live Edge vineyard, with the idea of grafting them this spring. The vines at Black Ankle have done very well, and we were able to bring a grafting crew into the vineyard in May to add the scions. This process consists of making a tiny cut in the rootstock and wedging a small slice of scion wood and a single bud into that cut, then wrapping the whole thing in a tape "bandage." After just a few weeks, we can already see leaves growing from nearly all the grafted buds. We will have to see how the vines fare for the rest of the growing season and how they manage the winter before we declare the success or failure of this experiment, but for now we are cautiously optimistic. If you take a vineyard tour, feel free to ask your host to show you the newly grafted vines, and you can check their progress for yourself.
As for the vines we planted at Live Edge, we learned that while rootstock offer many advantages in hardiness, they are still delicious to deer, who ate nearly all our 2018 planting to the ground. With a new deer fence in place on that farm, we are giving it another shot and have replanted those vines. We will see what the next year brings! Did I mention that this is never boring…?
Cheers,
Sarah (and Ed)
Comments
Mansoor Iejaz
@ Dec 9, 2021 at 11:22 PM
Agreed as to be one add my voice for that to share relevant and valuable information to their loyal customer base so that way it is effective way to communicate regularly about the promotion and services etc
온라인카지노
@ Dec 20, 2021 at 10:19 PM
Great post you have pointed out some excellent details, I besides conceive this is a very excellent website. https://joinlive77.com/
Clara Rachael
@ Jan 7, 2022 at 11:15 AM
Good services being offered by the best
Escort in Bangalore
@ Jan 17, 2022 at 12:32 AM
It totally depicts the article I like. It is a particularly organized site and the fashioner clarifies the goliath place interests considering everything
neev
@ Jan 28, 2022 at 3:02 AM
Your show-stopper is dumbfounding and I close by you and skip for a surprisingly long time enlightening posts. Appreciative to you for changing mind-blowing information with us
https://sites.google.com/view/banhaloreescortindia/ https://bangaloreescortindia.wordpress.com/ https://bangalorescortindia.weebly.com/ https://escortsshumona.livejournal.com/373.html
neev
@ Jan 28, 2022 at 3:04 AM
Astounding articles and stunning improvement plan. Your weblog area legitimizes some distance past particularly of through a drawn outshot the goliath more indisputable piece of the amazingly central encounters it is been getting.
https://rajputshumona.wixsite.com/bangaloreescortindia https://bangaloreescortindia.shutterfly.com/ https://telegra.ph/Famous-Escort-Bangalore-01-17 http://user-rajputshumona.flazio.com/
neev
@ Jan 28, 2022 at 3:05 AM
A particularly splendid article that is, I genuinely fulfilled to hurt this enlightening disperse through your site. Keep it exceptionally nearby your pearls and thanks unequivocally goliath through an immense region for sharing this sort of astounding article.
https://bangaloreescortindia.webflow.io/ https://bangaloreescortindia.educatorpages.com/ https://bangaloreescortindia.godaddysites.com/ https://bangalore-escort-india.yolasite.com/
neev
@ Jan 28, 2022 at 3:07 AM
This is an astounding conviction that kills delays on roads with the partner of the tremendous events the virtual costs. As displayed through all individuals are in shape this rate upsets and peering out help from by a huge degree by a long shot the greater part of individuals ability to shed this issue.
http://bangaloreescortindia.wikidot.com/ https://write.as/b12zsqwbutaeh.md http://bangaloreescortindia.6te.net/ http://bangaloreescortindia.ueuo.com/
neev
@ Jan 28, 2022 at 3:09 AM
A reasonable blog valuably considers unequivocally overwhelming information and concentrating on that taking out I obviously have felt that this blog is having the standard's credit that qualifies a weblog to be a one.
http://bangaloreescortindia.coolpage.biz/ http://bangaloreescortindia.freeoda.com/ http://bangaloreescortindia.freevar.com/ http://bangaloreescortindia.freetzi.com/
neev
@ Jan 28, 2022 at 3:11 AM
Great greetings, I really need to say, I'm covered with the associate of utilizing your site. I gifted no issue looking at inside the method for the tabs and the assessments have been particularly easy to get to. I saw what I required inspiration utilizing all way. Drooping. Would see the cost in it inside the occasion in which you move conversations or something, it would be a shocking way for your customers to the spot of affiliation. Amazing work
http://bangaloreescortindia.website2.me/ https://bangaloreescortindia.splashthat.com/ http://bangalore-escort.populr.me/bangaloreescortindia https://bangaloreescortindia.nethouse.ru/
neev
@ Jan 28, 2022 at 3:12 AM
Suffering you are peering out an enduring birthday cheer amigo or meandering wonder factor, you could pick the obliging sweet arm for the most satisfying organization. Expecting that your heavenly point is to get truly sexual enjoyment, you might see overwhelming Call Youngsters who will equip you with an absolutely appropriately beguiling hotness relationship for your most clear achievement and powerful event.
https://about.me/bangaloreescortindia http://bangaloreescortindia.idea.informer.com/ https://bangaloreescortindia.substack.com/p/bangaloreescortindia https://bangaloreescortindia.jouwweb.nl/
neev
@ Jan 28, 2022 at 3:14 AM
Strikingly massive pass on. I generally found your weblog and expected to say that I really experience respected difficulty looking at your weblog areas. In any case, I'll get it for your feed and I consider you worked with it up again rapidly. Monstera's risk of appreciation is all together for the epic records.
https://61e90d8a57757.site123.me/ http://bangaloreescortindia.pbworks.com/ https://bangaloreescortindia.siterubix.com/ https://www.global-gathering.com/opinions/32668
Gracie Adams
@ Feb 1, 2022 at 12:23 PM
Good rehab services in town
Phanik
@ Feb 7, 2022 at 8:23 PM
Thanks for Sharing , great info
PhaniK
@ Feb 7, 2022 at 8:24 PM
Thanks for sharing, will bookmark this blog
Commenting has been turned off.