Black Ankle News & Updates

For this week's Virtual Happy Hour, we will be talking about the Feldspar IV and the Slate 5 and we
thought it would be fun to have a cook-along wine pairing dinner to go with the conversation. Ed and I
(Sarah) will be cooking up a few of our family favorites.
Here are the recipes, in case you would like to cook them as well.
Williams-Sonoma Tiny Roquefort Popovers
For an appetizer and Feldspar IV pairing, we are making the Williams-Sonoma Tiny Roquefort Popovers
recipe, although we will be using Chapel's Country Creamery's Bay Blue in place of the Roquefort.
https://www.williams-sonoma.com/recipe/tiny-roquefort-popovers.html
Leek & Goat Cheese Tart
For a main course and Slate 5 pairing, we are making a Leek and Goat Cheese Tart (also adapted from a
Williams-Sonoma recipe).
Ingredients:

For the Pastry​
1 cup all-purpose flour​
¼ teaspoon salt​
½ cup butter, cut into 1-inch pieces​
2-4 tablespoons water
Mix together the flour and salt. Mix in the butter using a food processor or a mixer with the paddle
attachment until the mixture resembles coarse meal. Add the water a teaspoonful at a time until the
mixture just holds together. Shape into a flattish 6-inch round and refrigerate for an hour. ​
After an hour of chilling, roll the dough out on a well-floured surface until it will fit into a pastry tin or
pie plate. Trim the edges and put the pan into the freezer for about 20 minutes until firm.
Once chilled, cover the pastry with foil (and pie beads or beans) and cook in a 325 degree oven for about
15 minutes. Remove the beans/beads and foil and cook another 3-5 minutes, until the crust is slightly
golden. Or skip this whole process and start with a pre-made pie crust…oops, did I say that out loud?​
For the Filling​
2 tablespoons butter​
3 leeks – just the white part and about 2 inches of the green, halved lengthwise and cut into 3/4 inch pieces.​
¼ lb. goat cheese – we are using Cherry Glen Chevre​
¼ cup freshly grated Parmesan cheese – or substitute with Shepherd's Manor Tomae​
¾ cup half-and-half​
3 eggs​
​
In a large frying pan over medium heat, melt the butter. Add the leeks and cook stirring occasionally,
until soft and nomoisture remains in the pan. This will take about 30 minutes.
Good thing you have that bottle of Feldspar and those popovers to sustain you!
Season to taste with salt and pepper. Set aside to cool.
In a separate bowl, crumble the goat cheese, add the Parmesan or Tomae, half-and-half, eggs and salt and
pepper to taste. Whisk until well blended. Stir in the leeks and pour the mixture into the pre-cooked pie shell.​
Bake at 325 until the mixture is firm. ​
Let cool about 5 minutes and enjoy!

If you prefer, you can easily substitute caramelized onions and Shepherd's Manor Herb Ewe cheese for
the leeks and goat cheese. The results will be different, but also delicious!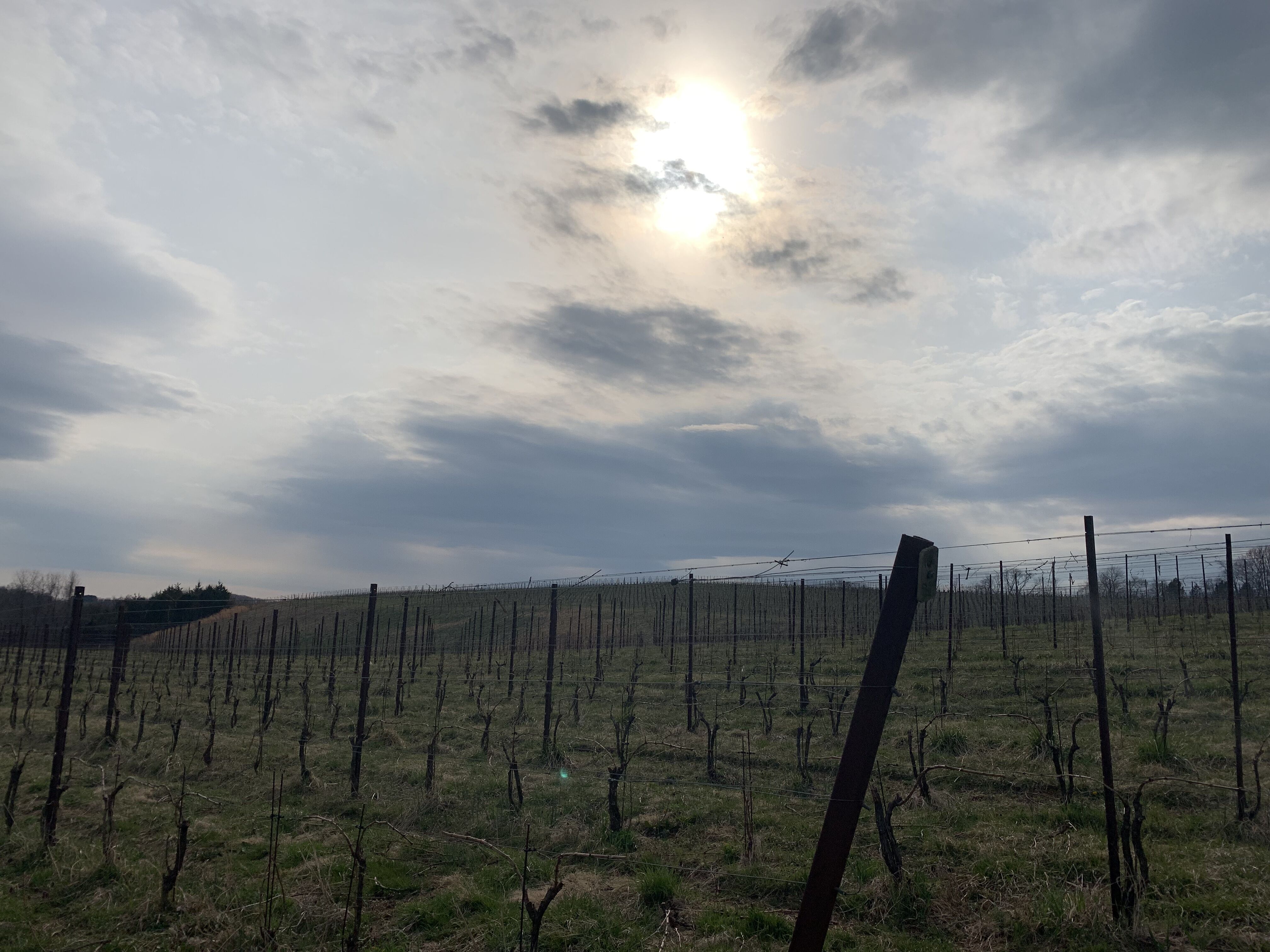 Spring 2020
Leaving BAV a better place than we found it.
We love our little corner of the world. From the time we bought this 146-acre piece of land we knew we had found a special place; an historic farmhouse nestled in a valley between two beautiful hills with expansive views of the mountains from the top. We also knew that we wanted to change the whole character of the place by planting acres and acres of grapevines and inviting the public in to share the experience of the farm, but we had to find a way to do all of that while making it even better than it was when we found it.
We decided to embrace that challenge with a basic philosophy: use what we have and keep it simple. This little idea (it seemed little at the time, anyway) has had an enormous effect on what BAV has become. Need to frame buildings to store barrels and host customers? Why not use our own trees and not bring in truckloads of boards?
Need electricity? Why not generate it onsite from our own sunshine? Need to reduce the heating/cooling load on the buildings? Why not use our home-grown straw for insulation and build window overhangs to block the sun in the summer but not in the winter? Want ripe, healthy grapes? Why not let wind and sun into the fruit zone by pulling leaves so we can minimize the need to spray?
Sometimes we feel a little bit old-fashioned in the way we do things, but choosing simple over complex, local over trucked in, and working with the land instead of against it has gotten us to the place we are today. We have brought many changes to the piece of land we bought in 2002, but we are pretty sure that it is a happier and better place now, especially when that space is filled up with so many of you enjoying it.
It is pretty quiet around here right now, but we know our little place will be filled with joy, energy and people having fun again soon.
Nothing will make us happier.
Cheers,
Ed (and Sarah)