Black Ankle News & Updates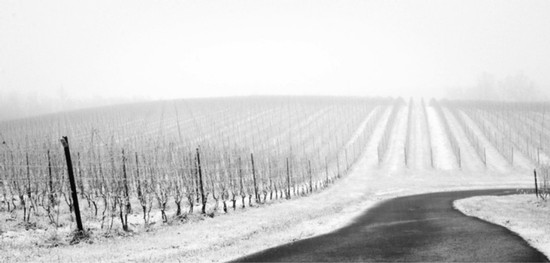 Dear Black Ankle Wine Club Members,
So, when is a new wine ready to release? While Ed and I are pretty simpatico on many issues, on this point, we are often a house divided. When wine is first bottled, it inevitably goes through a bit of an awkward stage – no matter how gentle the system we use for bottling is, the jostling around that the wine goes through to get from barrel to tank to bottle causes the wine to shut down a bit. Aromas become somewhat muted and the delicacy and balance that the wine had during blending tends to be lost for a few months. How long it takes for a wine to get over that period and return to what it was like before bottling can take from a couple of weeks to several months, depending on the wine.
For white wines, as soon as the wine tastes, smells and has the mouthfeel that it had before bottling, it can be considered ready to go. For red wines, however, the development in bottle tends to be more pronounced and here is where the controversy comes in. The younger a red wine is the more pronounced its tannins usually are. A very young can seem a bit harsh, but it also has great freshness and it works well to cleanse your palate and make each sip or taste of food that you take have as much impact in your mouth as the first. As a wine ages, the chains of molecules that make up tannins bond together and get bigger, but are actually perceived as smoother and less noticeable in your mouth. As the tannins soften, the fruit character of the wine tends to take a front seat and become more pronounced, while the tannins are a bit softer and less apparent. After many years, a wine's fruit flavors start to fade, its tannins begin to take on a silky, almost oily profile and the impact of the wine on your palate becomes much more delicate.
So where on this timeline of aging is the best point? The beauty of wine is that on this question as on so many others, there is no right (or wrong) answer. I like my wines young – I think the zip and freshness brought by stronger tannins adds to the enjoyment of the wine, even if it means the fruit is a bit less prominent and the mouthfeel is a bit tougher. Or maybe I am just too impatient to crack into the new vintage to wait for it to soften up very much! Ed tends to like wines that are a bit older – favoring the more prominent fruitiness and softer tannins and exercising a lot of patience to let a new wine get there.
Where do you fall in the mix? Try an experiment by buying several bottles of the same wine and trying it every few months or once a year and you will get a sense of how the wine changes and what you like best. The 2015 Leaf-Stone is in your current shipment is a great wine to experiment with, because it will age a good long time, but it is (by my standard!) delicious right now, so you can't go wrong. I would have released it in August, Ed argued for April (if you are frustrated by the wait for your favorite wine, you know who to blame!), so we split the difference.
Whenever you drink them, we both hope you enjoy these wines to the utmost!
Cheers,
Sarah (and Ed)