Black Ankle News & Updates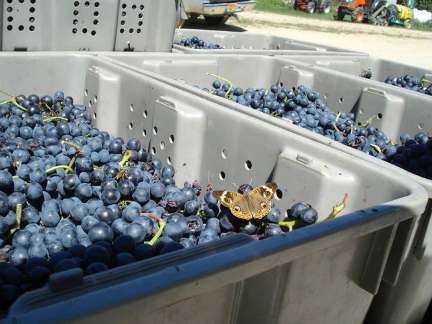 Dear Wine Club Members,
Happy August! We hope you are surviving the record-setting hot summer without too much strife. As miserable as the heat makes all of us humans, it's all good news for the grapes, so for us personally it is worth it. I hope next summer at this time you will be enjoying the fruits (or, more to the point, wines) of this season's warm weather and that will make up for any misery now.
One of these letters I am actually going to be able to report – "Yay!! The construction of the tasting room is complete!" Unfortunately, it is not this letter. The project is grinding along a bit more slowly than we had hoped it would due to the usual set-backs that will be familiar to you if you have ever taken on a renovation or construction project. I won't get into the boring details, but I promise we are working as hard as we can to move things along, and one of these days we will have a great new space available for all of you.
So, onto the good news. Grapes! One of the things that both Ed and I (Sarah) love about this project is that is gives many opportunities to experiment and try new things. When we were first learning about how to grow and make Grüner Veltliner I was lucky enough to spend 10 days exploring Austrian wine country and meeting with numerous growers. Austria is the home of GV and the Austrians have made an art out of making these wines for centuries. Grüner Veltliner is famous for its versatility – its ability to make interesting wines at many different levels of ripeness. Many Austrian growers allow their vines to set varied crop levels and will pick the same vineyard blocks in multiple passes to make different styles of wines from the same vines. This year, our younger GV, which we planted in 2011, is mature enough that we feel we can take on a few experiments of our own. We have decided to severely cut back the yield on our older planting (from 2004) and split our 2011 planting into two parts – one with a moderate crop and one with a relatively high crop that will be left on the vines for a sweet, late harvest wine. The idea is that we will end up with 3 very different wines. One should be a very concentrated, rich, dry table wine, one will be a lighter style (also delicious, but more on the refreshing side of the spectrum) and the last will be a super concentrated dessert wine, which we will only ferment partially so it will retain some sweetness and a very smooth mouthfeel. A lot of variables have to fall into place for this too all work out as planned (if the weather doesn't cooperate, we may lose all the late harvest grapes), but it will be interesting to see what comes of this experiment. We will keep you posted on our progress and, if all goes well, you will be able to taste the results in the next few years.
So, on to the wines in this quarter's shipment:
The 2015 Rosé is finally ready for release. We had a chance to visit Bandol in France this year, the home of French Rosé, where tasted some of the world's best, and we feel this wine holds up very well vs. those. Red fruit and flower aromatics give way to a smooth, long lasting wine with our signature roundness and concentration. Drink now through next year.
Our two 2015 Albariños are similar and yet different. Both are primarily from the same block of vines, but we experimented with the amount of leaves shading the bunches. The 2015 Albariño is made from the "sunny and warm" grapes, and shows real concentration and boldness. The 2015 Albariño Alegrìa is made primarily from the "shady and cool" grapes, and exhibits more delicate aromas and flavors. Both have some Viognier blended in to balance out the very high acidity we got in 2015, and it adds richness and body to both wines.
The 2013 Crumbling Rock is destined to be one of our finest efforts. 2013 was a great year for reds and we think that our signature Bordeaux-style blend is lives up to that and more. Concentrated, aromatic, rich, long, and smooth, the 2013 is still nimble enough to perform well on the dinner table. It is drinking very well right now, but for those of you who like to age your wines, this one has all the earmarks of a wine that will improve for a decade or more and drink well for many years beyond that. We have a decent but not inexhaustible supply (we made a shade under 600 cases) and you may add some more onto your wine clubs if you like. Caveat emptor - we will not make a 2014 Crumbling Rock, so it will be two years before we have more CR available.
Cheers,
Sarah (and Ed)