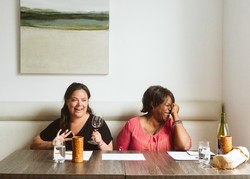 Boots Box: Sip with a Somm
With this box, you will sip through a blind tasting of 2 Black Ankle favorites with local Sommelier, Nadine Brown and Black Ankle Vineyard's, Emma Pope! Using a Wine Tasting Grid, Nadine will teach you (and Emma) how to deconstruct a wine based on its visual presentation, palate, and structure. Refining your palate requires you to taste, taste, taste - it's a tough job, but somebody has to do it (and it may as well be you)!

How it works with your club:

While customizing your order, simply select the option to add the BOOTS Box onto your order just as you would a bottle of wine. The cost of the box ($120 for this round) will be added to your July allotment.