Black Ankle News & Updates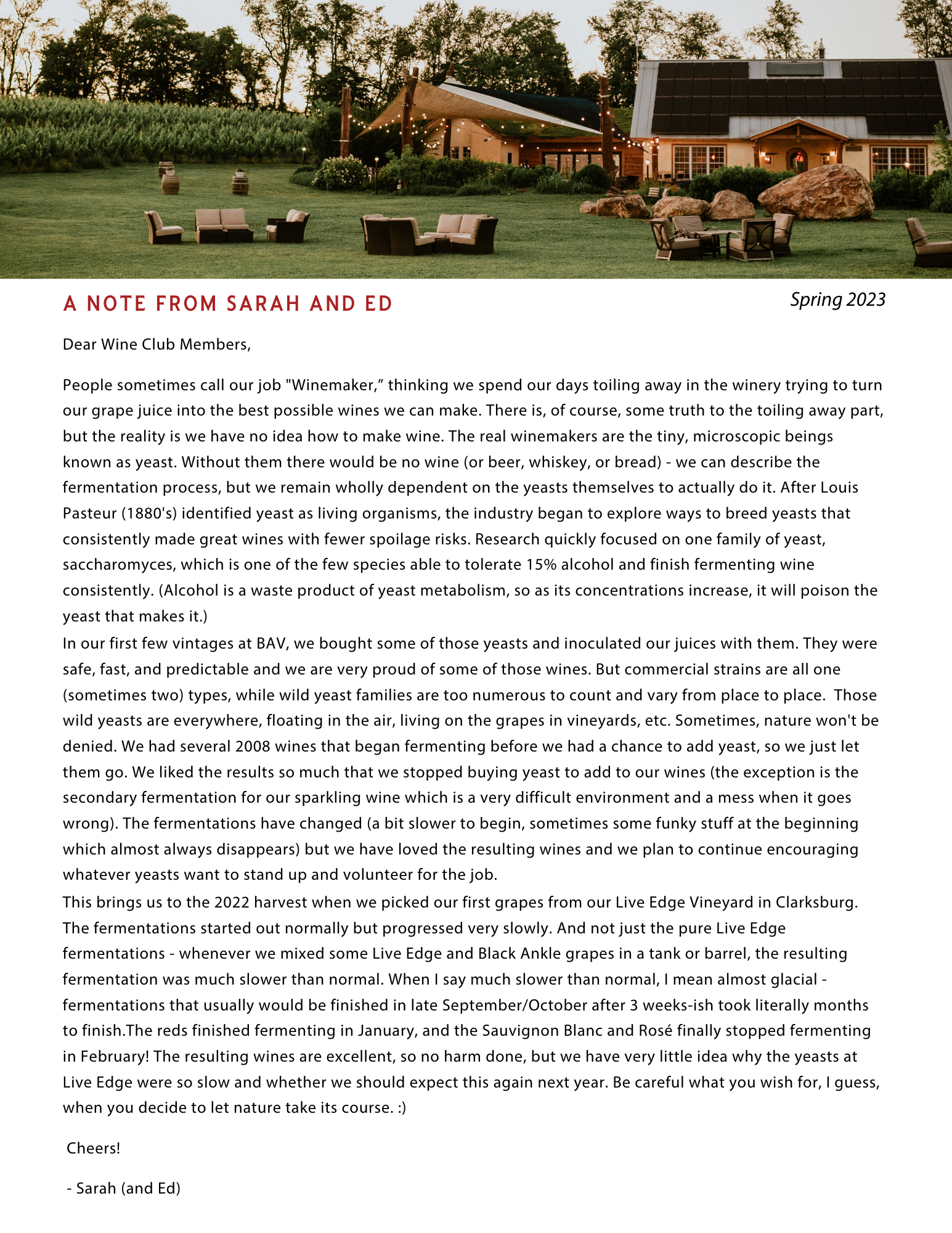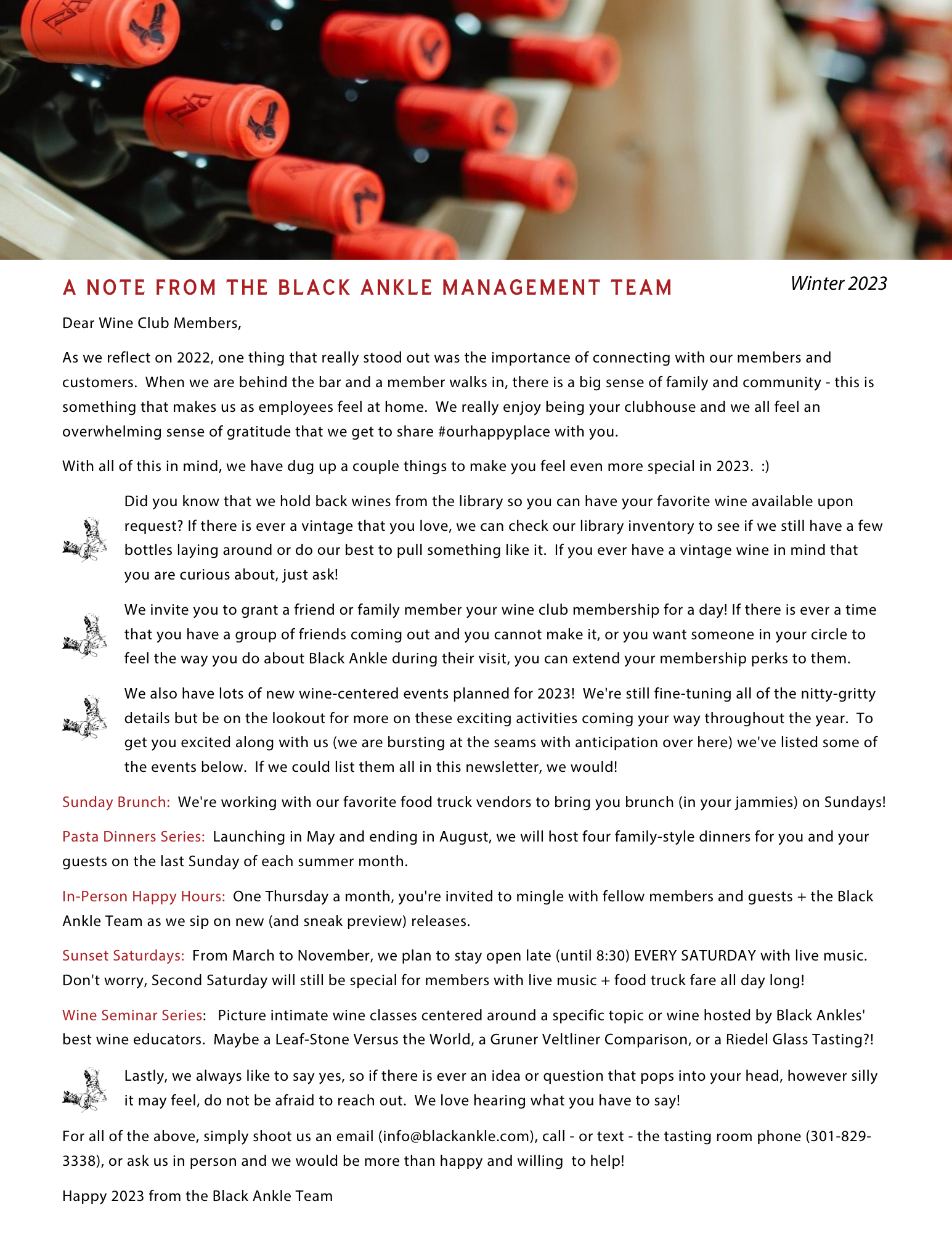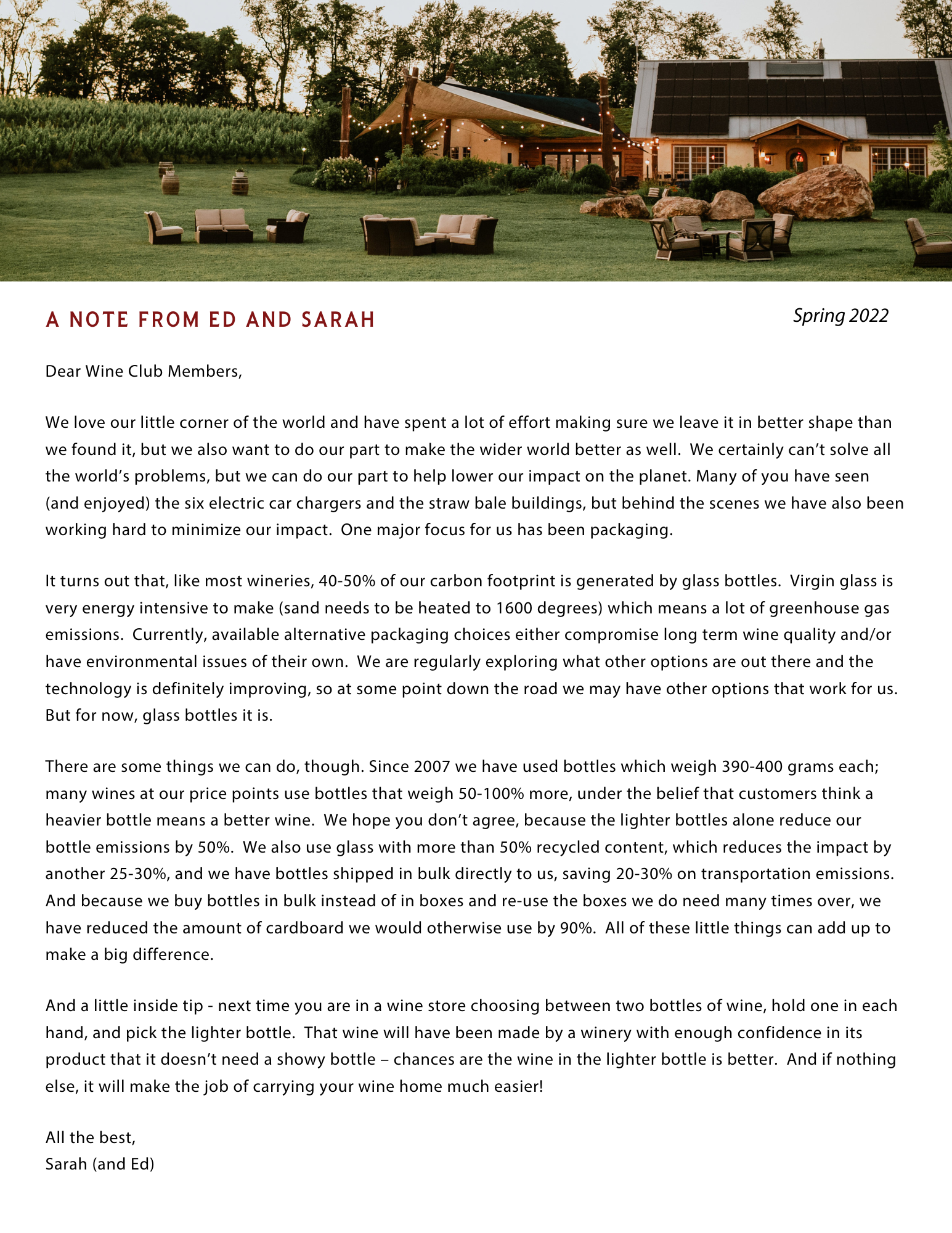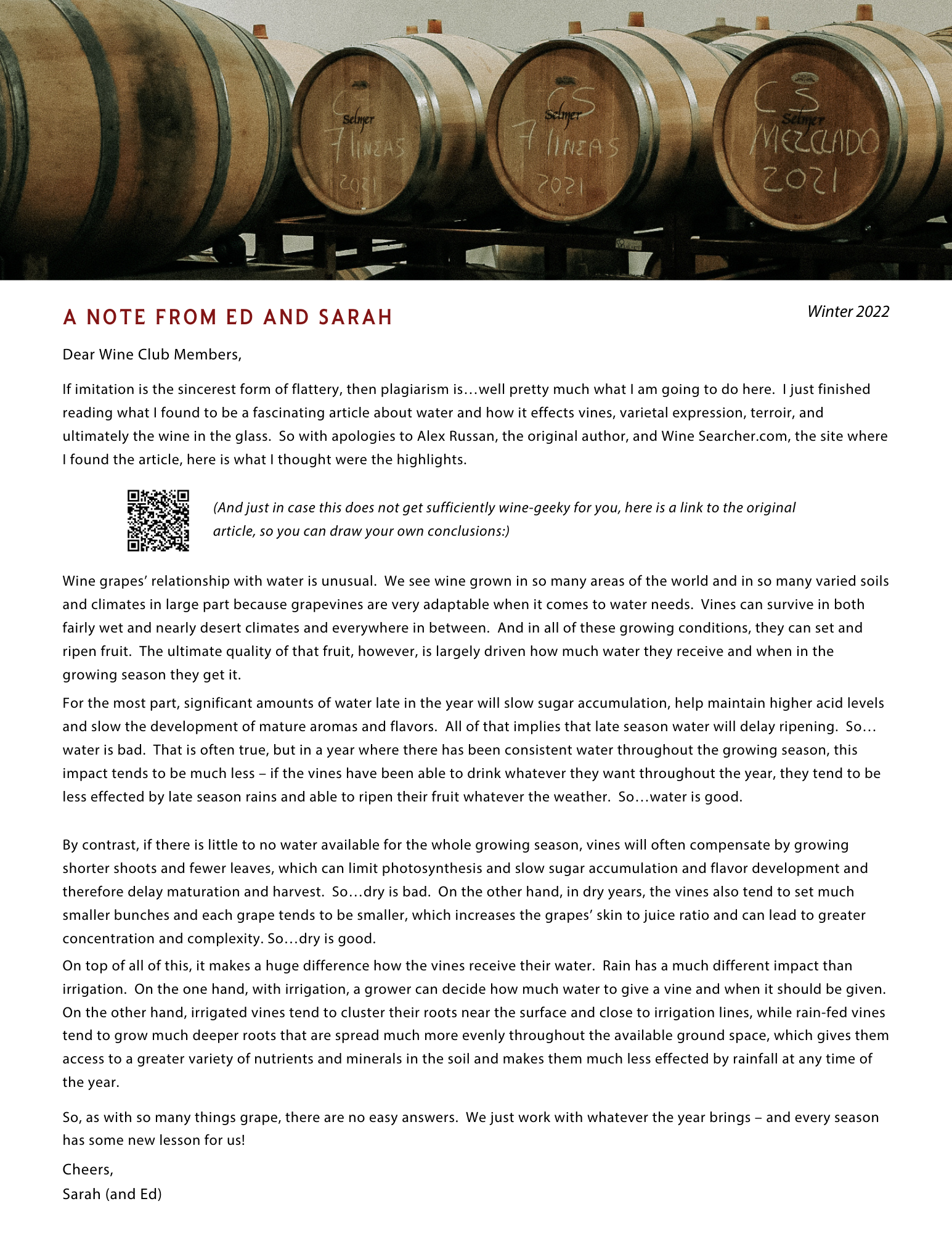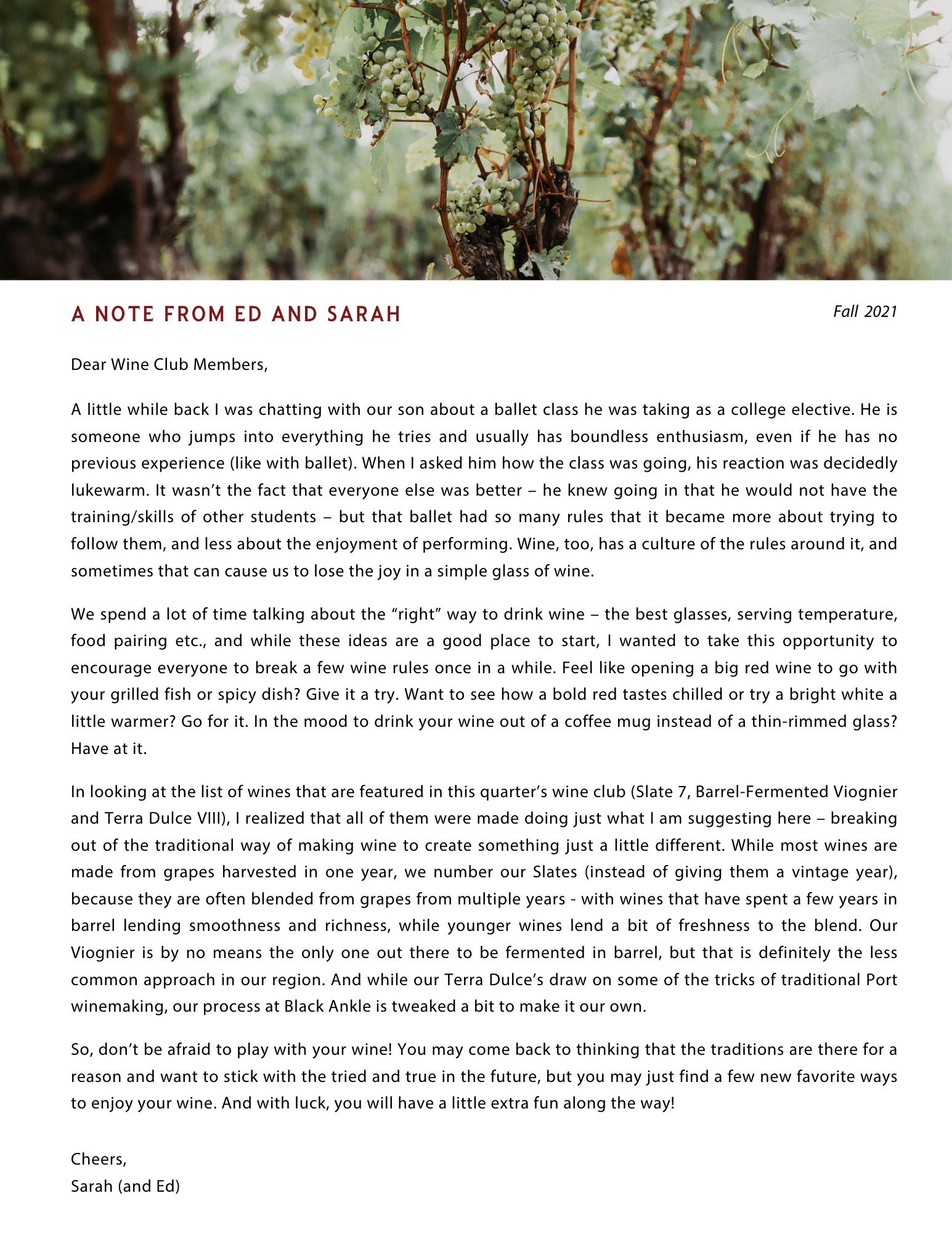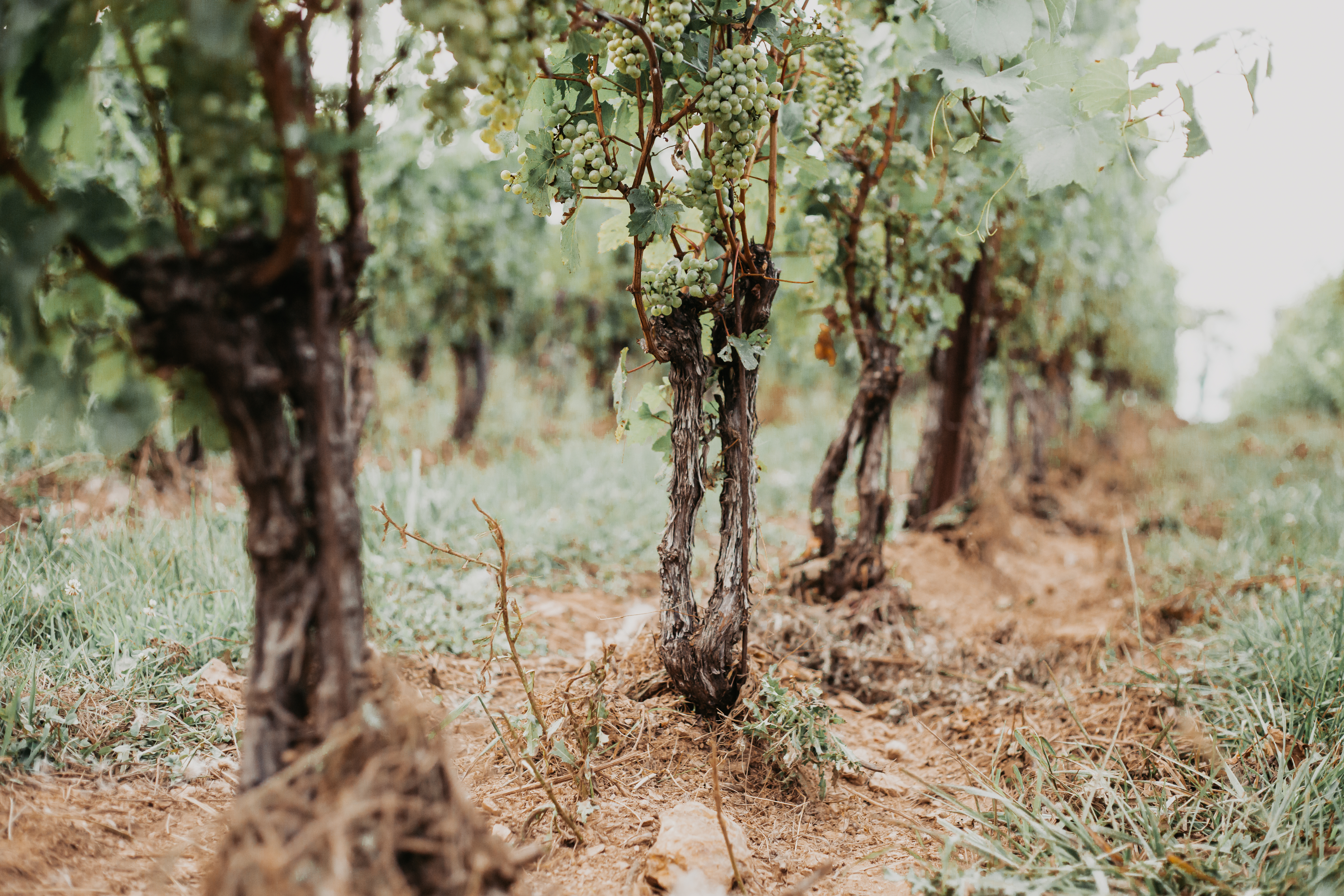 Over the past few months, I have made the round of Career Days at our kids' schools, and it seems that everyone's favorite question is "What is the best and worst part of your job?" I have the same answer to both questions: It is never boring! There is always some new way of doing things to try, some new problem to solve or an experiment to play with. Our latest big experiment is field grafting. Nearly all grape vines in the world are grafted, with European-style vines fused to hardier American roots that can withstand phylloxera, a tiny soil bug that is native to North American soils and now found throughout the world. Up until now at Black Ankle, we have always planted vines that were grafted in a nursery and planted only once the grafts had been established. The downside of this approach is that there is an 18-month lead time to between vine order and delivery, since bench-grafting, as this style is called, is a long process. The vines also tend to establish slowly as different roots and tops are trying to work together to acclimate to their new growing environment.
With field grafting, just the root is initially planted, and the scion (the part of the vine that determines the variety) is grafted on only after the roots have been in the ground for a year. This offers the advantage of giving the roots time to grow and get strong before they need to assimilate a graft. Since rootstock varieties are native to our area, they are also much more disease resistant and winter tolerant than the vines will be once they are grafted. In 2018, we planted 8 acres of rootstock at Black Ankle and 5 acres at our new Live Edge vineyard, with the idea of grafting them this spring. The vines at Black Ankle have done very well, and we were able to bring a grafting crew into the vineyard in May to add the scions. This process consists of making a tiny cut in the rootstock and wedging a small slice of scion wood and a single bud into that cut, then wrapping the whole thing in a tape "bandage." After just a few weeks, we can already see leaves growing from nearly all the grafted buds. We will have to see how the vines fare for the rest of the growing season and how they manage the winter before we declare the success or failure of this experiment, but for now we are cautiously optimistic. If you take a vineyard tour, feel free to ask your host to show you the newly grafted vines, and you can check their progress for yourself.
As for the vines we planted at Live Edge, we learned that while rootstock offer many advantages in hardiness, they are still delicious to deer, who ate nearly all our 2018 planting to the ground. With a new deer fence in place on that farm, we are giving it another shot and have replanted those vines. We will see what the next year brings! Did I mention that this is never boring…?
Cheers,
Sarah (and Ed)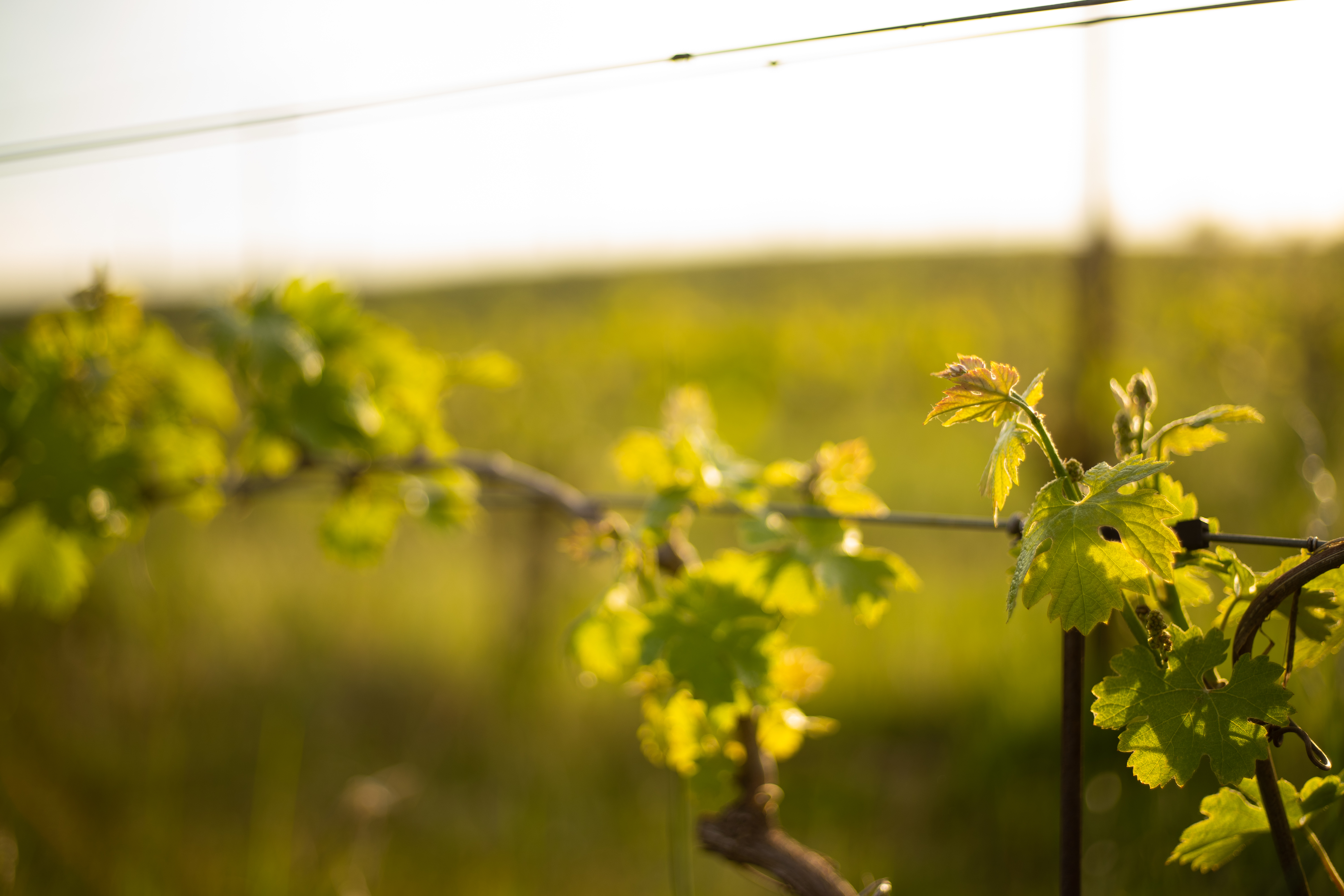 For most food products, when they are packaged and sold, they are as good as they will ever get. Most of them even have an expiration date, after which they decline rapidly. Most wines fit that paradigm pretty well – it has been estimated that about 95% of wines never get better after release. Our BAV wines are made to be part of that 5% wines that grow deeper, softer, more interesting, etc. with more time in the bottle. Yet no wines improve forever, so how do we know when to drink them?
The answer depends on the specific wine and your own palate. Some wines (like many of our whites and Passeggiata) will improve for 1-5 years, losing a little bit of fruitiness but gaining more palate weight and complexity. Some wines (like our reds) are made to drink very well when first released but steadily improve for 5-10 years, then last a decade or more before they begin to decline. They too will lose some fruitiness but will add weight and new aromas and flavors typical of older red wines. The best time to drink wines? Well, do you like fruitiness? Then younger wines will be more to your taste. Do you cherish smoothness beyond all other attributes? Then long aged wines will be worth the wait. Sarah and I tend to prefer wines younger than most, with more vibrancy (a stereotypical French attitude toward wine) but we have many friends who prefer to wait for that incredible smoothness on the palate and those old red aromas like tar, leather, and cigar box (has anybody actually smelled a cigar box? I haven't). If you aren't sure where you stand, try buying a few bottles of a favorite wine and drinking them over time – all in the name of science, of course.
We don't put expiration dates on our wines, but we have come up with a vintage drinkability chart based on staff tasting and customer feedback. Please don't take it as gospel since everyone's palate is different, but it should give you a pretty good idea of how each of wines are aging. And if you do crack open one of our older vintages, we would love to hear what you think. Happy exploring!
Cheers,
Ed (and Sarah)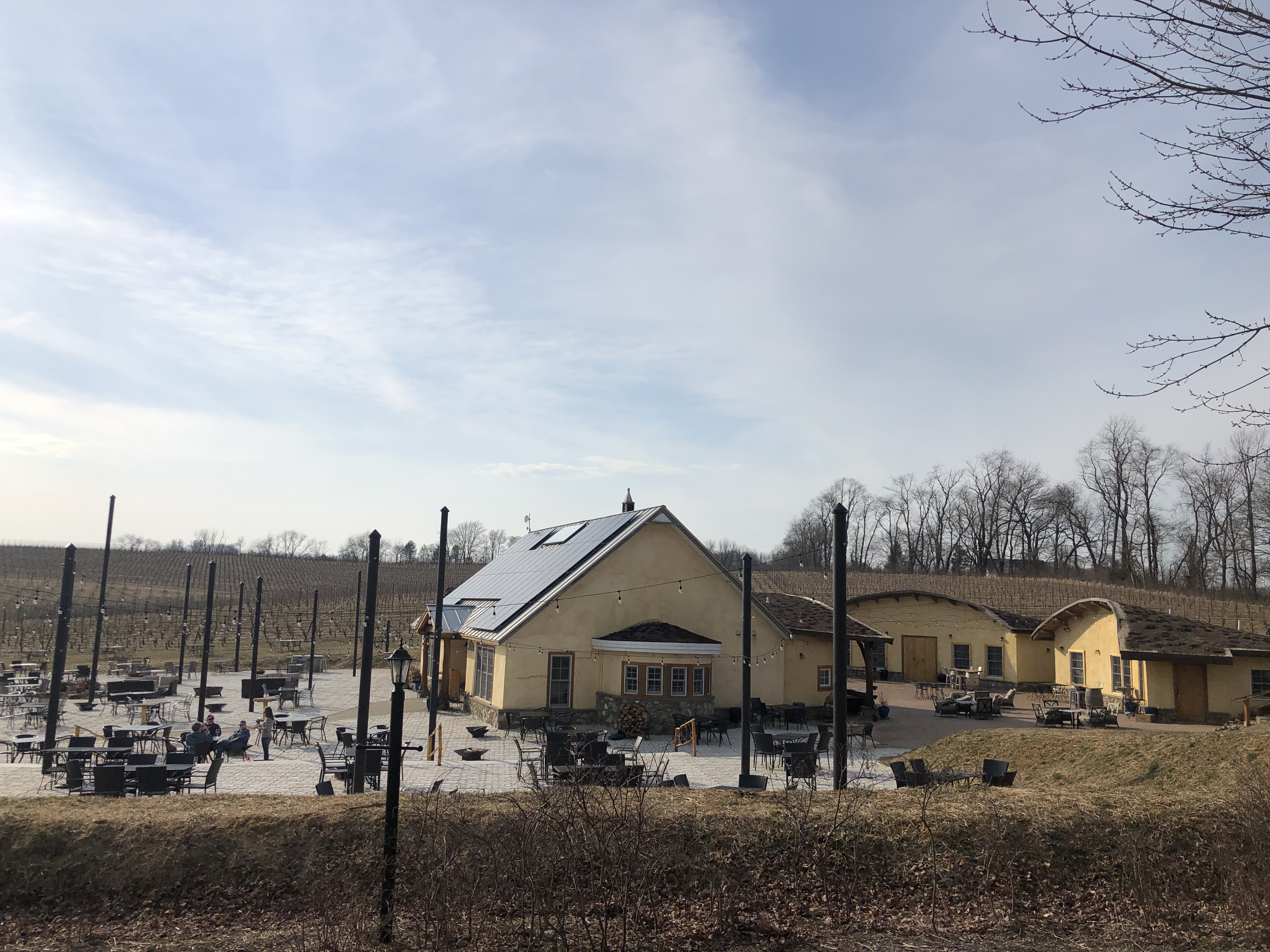 Sarah and I are certainly optimists, but are we right to be? I guess when you start a vineyard and winery in Maryland, you have to be an optimist. Summer rains, fall hurricanes, cold winters, potential early or late frosts and hungry birds and deer are all part of the package here. And on top of these attributes, we are in the native region for 4 of the 5 most destructive grape diseases. Sometimes we feel like we have it all - unfortunately. Some in world of wine think it is folly to grow grapes in the Mid-Atlantic. We heard this countless of times before we started Black Ankle, and we continue to hear or read it all the time. It has never really made sense to us – of course it is not easy to grow world class grapes in Maryland, but is it easy anywhere? We have never thought so every region has its challenges, and we believe ours are not much greater than what other growers face, especially if we carefully do our homework and prepare for the challenges we know will come. Aside from the difficulties that our region throws at us, we also have some great soils, excellent temperatures for ripening a wide variety of grapes, and many other small, but important, advantages that allow us to make the quality of wine that you expect from Black Ankle. So, was it good planning, or wishful thinking that made us choose this place?
For us people, 2020 was dominated by everything Covid, but the vineyards of the world went through their life cycle unbothered by what we humans were dealing with. And as crazy a year as the humans had, the vineyards might have had an even crazier one. It started with the European Ice Wine crop being a total failure, as it never got cold enough in January or February to freeze the grapes. As spring began in the Eastern US, late frosts caused serious damage in many areas, resulting in no 2020 crop for many vineyards in low lying or early budding areas. After a relatively quiet summer grape-wise, enormous wildfires hit the West Coast, and thousands of acres of grapes were destroyed outright or spoiled by smoke being absorbed by ripening grapes. And just as harvest was wrapping up in the northern hemisphere, a very early hard freeze in much of the Texas wine country saw temperatures dropping from the 70's to the teens overnight, freezing nascent buds which were not yet acclimated to winter temperatures and eliminating all or most of what should have been the 2021 crop. It was a tough year to be a grapevine – or a grape farmer.
But back here in Maryland, through a combination of good luck and good planning, we escaped the frosts, the fires, and the freezes to harvest one of the best crops we have ever had at BAV. All these disasters reminded us both how fragile the world of farming can be, but also how lucky we are to have chosen an especially resilient spot to plant our vineyards. It turns out that growing world class grapes is difficult everywhere. Maybe that is partly why it is so very satisfying when everything comes together, and the year's harvest rewards all the hard work. 2020 is a year a lot of people would like to forget, but we are delighted that we will have at least one reason to cherish it – our 2020 vintage, which we hope to be able to share with you in a back-to-normal world. Or is that just wishful thinking?
Whatever 2021 has is store for us, we wish you all the best in the new year.
Cheers,
Ed (and Sarah)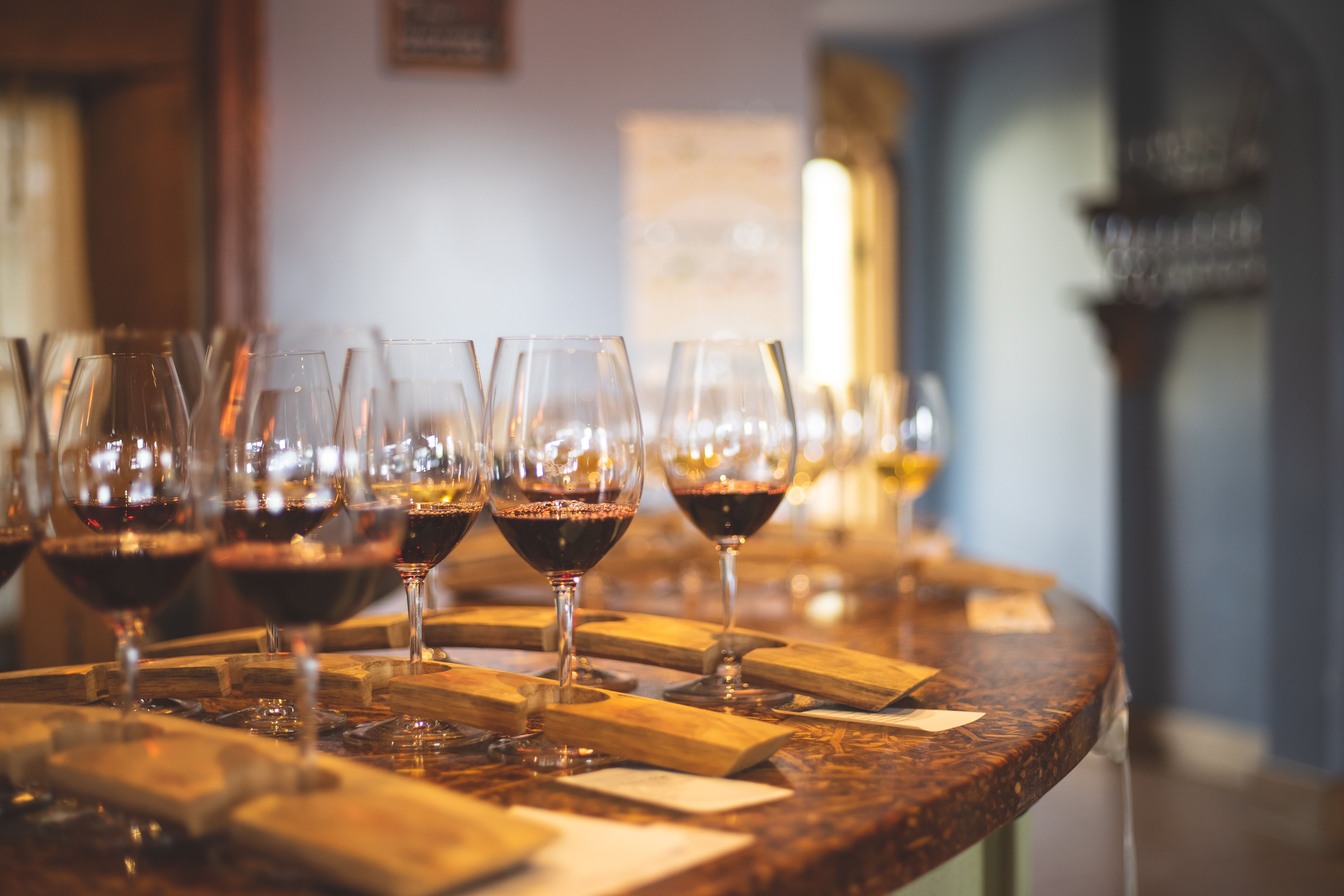 As I write this, we are about three quarters of the way through this year's harvest. We are never ones to count chickens before they hatch, but without getting too far ahead of myself, I think it is safe to say that it is looking like it will turn out to be a phenomenal year. We were extremely lucky to have been missed by the late spring frosts that hit so many local vineyards and we have had a great fruit set and a well-balanced crop load. While it has been a rainy summer in many areas of the state, most of the summer rains have missed the vineyard and we have had a beautiful growing season, with plenty of sunshine, hot temperatures (all those sweltering days did some good, at least!) and just enough rain to keep the vines from being over-stressed. The excellent weather has continued into the fall, with cooler evening temperatures and many sunny days – perfect ripening weather.
Our biggest complaint (and you knew there had to be one) is that since we have new acreage producing fruit for the first time and our winery has not miraculously (or otherwise) expanded on its own, we are playing a bit of a shuffle game to find enough tank and barrel space for what should prove to be our biggest harvest ever. As we keep reminding ourselves as we cross our fingers hoping that we have not quite overfilled any given tank so much that it will bubble over during fermentation, this is an excellent problem to have. So, while 2020 will not be remembered by anyone (even us) primarily for the great BAV harvest, we are incredibly grateful that this crazy year has had at least one silver lining.
Gratitude for a remarkable harvest has gotten me in appreciation mode and I can't help but think about the other good things that have come from this year. The tasting room shut down days let us make a nice big mess on the patio expansion project (fun with excavation tools!) and gave me, Ed and our kids a chance to visit with many of you as you stopped in for our curbside pick-ups. Despite cat photo-bombers and technical glitches, our Zoom happy hours have let us connect with our Black Ankle community in a new and fun way. Quarantine days have allowed us to enjoy a ton of time with our four (yes, 4 at once) teenage children living at home, and while they had pretty much capped out on Quality Family Time by about day 2, we parents have really enjoyed it. (My personal favorite Conspiracy Theory about the virus is that it was created by moms who wanted an excuse to drag their college age children back home for a while, but that is another story…) National attention towards questions of race and equity in our country have inspired us to take a closer look at what we can do in our small way to make Black Ankle a more inclusive and welcoming place to people of all backgrounds. And we hope we have created an even better place for people who share an interest in wine and to come together to sit down, relax, enjoy a little fresh air and maybe find some other common ground as well.
So, while it has been a tough year in so many ways, and while our hearts go out to everyone who has been hard hit by 2020, we are grateful for all the positives that have come as well. As a last note, I can not express how much the support and patience of you, our Black Ankle community, has meant to us. From buying up extra cheeses when we closed, to frequenting our curbside pick-ups, to mastering our new reservation plan and understanding as we have been learning the ropes of all of our new systems (your text order took 30 minutes to arrive, oh no!) you have been incredibly supportive and made it all worthwhile. So, a big cheers to all of you!
Sarah (and Ed)