Lamb Saag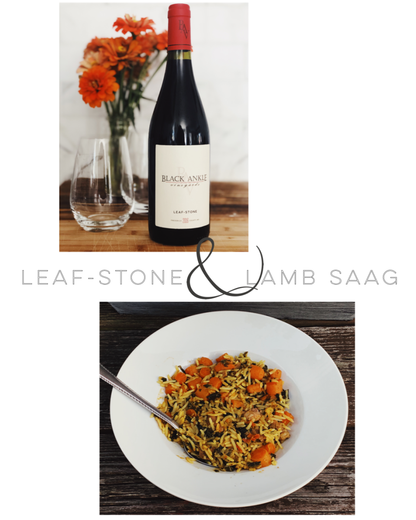 Recipe Date:
November 12, 2019
Measurements:
Imperial (US)
Ingredients
1 1/2 lbs Lamb shoulder, trimmed & cut
3 Cloves of Garlic, peeled
Directions
Purée the garlic, ginger, chilies, and onion in a food processor.
Heat 1 ½ tbsp. of the olive oil in a sauté pan. Add the lamb, brown on all sides (you may need to do this in two batches). When finished, place the lamb on a plate to rest.
Add the remainder of your oil and cook toast spices in the same pan for approx. 2 minutes. Add a splash of water if you need to! Add onion purée and cook for 2 more minutes.
Place the lamb back in the pan along with the tomatos, carrots, and stock. Stir to combine, then cover and cook over low heat for 45 minutes.
Stir in the spinach and cook for an additional 45 minutes. The lamb will be so wonderfully tender! If your sauce is looking thin, take the lid off for the last 20 minutes of cooking - the sauce will reduce and thicken.
Serve over rice and enjoy alongside a glass of the 2016 Leaf-Stone!