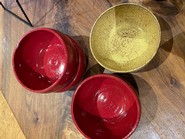 Medium Stoneware Bowl Any Color
Locally crafted artisan pottery made by one our own! The artist, Phyllis, is a former Black Ankle tasting room associate and has become newly retired. While splitting her time between Westminster, MD and Corolla, NC she has returned to her other passion, pottery! Much like wine, pottery is a living thing made with meticulous care, skill, patience, and love. Because these items are hand-made, each item will vary in color and shape.
Her pottery is microwaveable, oven, and dishwasher safe! Enjoy the rich dirt that affords us both wine and pottery.