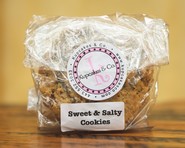 Baked by Kupcakes and Co, these Sweet and Salty cookies are baked with chocolate chunks, toffee, pretzel bits & pecans for the perfect balance of flavors.
Product Reviews
Meredith Dowell
(May 30, 2020 at 9:13 AM)
These cookies are excellent - just the right amount of salt to go with the sweetness of the cookie. Very hearty - I can only eat one - though my husband didn't have any problems finishing off the pack! Buy them. For real.