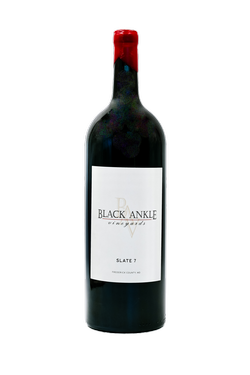 Slate 7 Magnum
Deep ruby in color, our Slate 7 is full-flavored and delicious now but will only improve with more time in the bottle. It's a Bordeaux-style blend with an expressive nose that features dark fruit and berry, sweet wood, toasty vanilla, tobacco, and floral aromas. This vintage shows juicy acidity with a lingering finish of peppery spice.
45% Cabernet Sauvignon, 38% Merlot, 13% Petit Verdot, 4% Cabernet Franc
Wine Profile
Vineyard Notes
After the difficult growing season in 2018 due to rain, the 2019 vintage year burst forth as a great growing season. Ample sun, just enough rain at the right time to keep the vines healthy and a dry fall at harvest time resulted in wines with beautiful concentration. While the 2019 growing season yielded a smaller than expected harvest, the quality was exceptional! As such, the red wines were almost exclusively made into our first-tier wines.
Production Notes
580 cases produced
Winemaker Notes
Once the fruit is picked, destemmed, and crushed, the berries, juice, pulp and seeds all go into a stainless steel fermentation tank. Once the tanks are filled, the juice will rest cool for a few days to extract as much color and flavor as possible. The wine will then ferment at a warm 80-90 degrees with frequent "pump overs" to provide for even extraction. Once fermentation is complete, the juice is drained out of the tanks and put into oak barrels for malolactic fermentation and aging. Once the free-run juice is out of the tank we will press the remaining pommace (the skins, seeds, spent yeast) to extract additional wine. This "pressed wine," as it is called, is barreled separately for malolactic fermentation and aging. Generally, this pressed wine is more tannic and needs longer time in barrel to soften the tannins. Slate uses some of the more tannic, pressed wine in its blend.