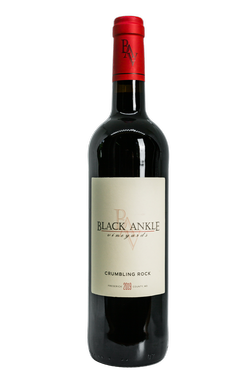 2019 Crumbling Rock
From the moment you open this wine, it is clear that our 2019 Crumbling Rock is something special. Full-bodied and smooth, this wine just glides across your palate.
Want more info on this wine? Click Here!
Wine Specs
Varietal
Bordeaux-Style Blend
Harvest Date
September 16 - October 2
Wine Profile
Vineyard Notes
After the difficult growing year in 2018 due to rain, the 2019 growing season did not disappoint. The growing season brought us great amounts of sun, just enough rain at the right time to keep the vines healthy, and a dry Fall at harvest time. The resulting wines have beautiful concentration. The only downside to the 2019 growing season was that we had a smaller than expected harvest. Because of the spectacular quality of the resulting red wines, we almost exclusively made them into our first-tier wines.
Production Notes
1,175 cases produced
Winemaker Notes
Once the fruit is picked, destemmed, and crushed, the berries, juice, pulp and seeds all go into a stainless steel fermentation tank. Once the tanks are filled, we run off or "bleed" a portion of the juice, which can be anywhere from 15% to 40% of the total juice volume. This bleeding process allows for a greater skin to juice ratio in our primary wines, which helps to increase depth, richness and concentration. This bleed juice is fermented separately. The remaining juice will rest cool for a few days to extract as much color and flavor as possible.