At Black Ankle Vineyards we strive to create an environment where people of every race, religion, sex, gender identity, sexual orientation, physical ability and background can come together to share a love of wine in a comfortable, hospitable environment. Please let us know if we can make any special accommodation to ensure that you enjoy your visit. And if we have missed something, don't hesitate to let us know how we can improve. Inquires can be sent to welcome@blackankle.com
Tasting Room Reservations
We are beyond excited to invite you back to the farm! We are now open 7 days a week by reservation only. While we are not offering tastings at this time, we will be offering flights, by-the-glass, and by-the-bottle purchases. Bring a picnic or enjoy our local artisan cheese and fare from our carefully selected menu. Whether you are looking for a custom experience or just wanting to relax with a bottle of wine in the sun, we are here and we cannot wait to host you :) Reservations are available on our Courtyard, Patio, Terrace, and Lawn sections.
If you are a wine club member looking to book a reservation but are having trouble, email info@blackankle.com or text 301-829-3338.
To make your reservation, learn more about the areas, and view a map of the outdoor seating- click here or scoll down!
Fireside Friday Update:
With winter temperatures dropping, especially as the sun sets, we have decided to close at 5pm on Friday evenings for January and February. Fireside Friday music and food trucks are expected to resume (weather permitting) in March or April.
Second Saturday Update:
Our members Second Saturday festivities are moving virtual for the months of January and February. We invite you to purchase a freshly prepped cheese and charcuterie board, take home frozen pizzas, and wine for curbside pick up! From the comfort of your own home, join fellow members, BAV staff, and favored musicians live via this Zoom link from 6-8:30pm.
Meeting ID: 844 5082 7623
Passcode: 189601
Things to Know Before Your Visit:
We are now open 7 days a week! Our winter hours are...

Monday through Thursday from 12pm to 5pm
Friday from 11am to 5pm
Saturday to Sunday from 10am to 5pm

We welcome parties of six or less (children included). For the safety of our guests and staff, we are unable to accommodate groups larger than six during normal business hours. No exceptions. If you are interested in booking a group of six or more on a weekday or during off hours, email info@blackankle.com.
To allow for other guests to visit and enjoy the farm, all reservation time slots will be allotted for a 2.5 hour picnic.
Children are always welcome! We just ask that all children be included in the party size and remain with their parents/guardians throughout the duration of your visit. For the safety of yourself and our guests, no running, sports, or games are allowed in the lawn or seating area at this time.
Dogs are also welcome on our Patio and Lawn area and must remain attached to their leash.
We require contact free transactions. Before you visit we ask that you set up a customer account on our website and add your payment information to your profile. When you arrive we will just locate your customer account, confirm it with you, and then charge the card on file after your approval. If you are a wine club member, there is no need to create a profile. To set up your profile, click here.
Rain and Snow Policy: It is important to note that reservations are for outdoor areas only. In the event of rain, we will contact you directly to see if you would like to reschedule your visit for a sunnier day.
Fire Pits/Warmth: Due to health and safety reasons, we are no longer offering individual fire pits. We do, however, have 7 or so fire pits spaced through out the Patio and Terrace areas - seating near the pits are not bookable and are first come, first serve. We encourage all guests to bundle up with jackets, hats, ear warmers, gloves, and to bring hand warmers, heaters, or extra blankets.
Protective Measures:
With the reopening of the tasting room outdoor areas, the health and safety of our customers and employees is a high priority. To prevent spread and to ensure the health and safety of individuals on a daily basis, we have implemented protocols that will limit employee to customer and customer to customer contact and regimens that will ensure around the clock sanitizing and disinfecting of all customer and employee contact touch points and surfaces.
To keep everyone safe, we ask that customers...
Respectfully social distance at all times. Keep a 6 foot distance from all other tables, guests, and employees.
Refrain from moving tables and chairs. If you would like to switch tables, please see the host.
When on-site, face coverings are required unless seated at your table. If you are in need of a face covering, ask an employee to bring one to you.
Use our hand sanitizing stations when entering and exiting the building for restroom use (four patrons in the building at a time) and while in line at the ordering stations.
We also ask that any customers who may be showing symptoms of COVID-19 to please stay home.
If you have any questions at all regarding your visit or about our current protocols, please feel welcome to email us at info@blackankle.com.
Curbside Pick Up / To Go Orders:
If you do not feel ready to visit our seating area just yet, we hope you will still visit curbside style to grab some wine to enjoy at home! We have curbside pickup everyday during our open business hours listed above. When you arrive, pull into the paved parking spots at the front of the tasting room and simply text 301-829-3338 with your last name and description of your car.
How to Make a Reservation:
Below is a map and list of the various sections available for reservations.
Click on your preferred section to book your table.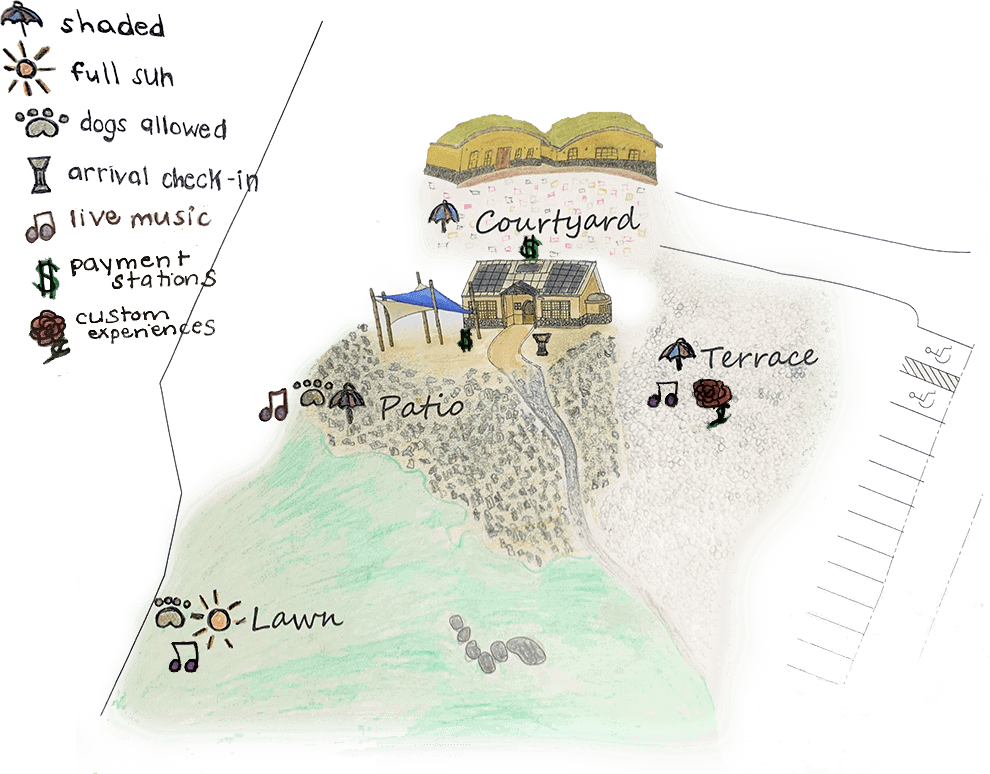 Tucked between our tasting room and former wine cave, guests can enjoy a shaded and quiet picnic in this area. Wine plus local cheese and fare can be purchased at a socially distanced ordering bar located in the patio or terrace area or from your table through a text messaging system. While this area is not dog friendly, our Patio and Lawn sections are :)
Enjoy sun or shaded seating on our newly renovated Patio. Set perfectly in a valley, guests in this area will have a view of our vineyard, and rolling hills while enjoying the breeze as it rolls through the shade sails above. On specific dates, live music will be performed in this area. Purchases can be made at a socially distanced ordering bar or from your table through a text messaging system. This area is dog friendly!
Sip on wine, munch on local cheese and fare, and enjoy the view as the sun sets below the vines. The newly built Terrace sits just a step above our patio allowing you to get a full view of the property. Purchases can be made at a socially distanced ordering bar or from your table through a text messaging system. While this area is not dog friendly, our Patio and Lawn sections are :)
Here, guests can grab a party number and a blanket from our host stand and take it to any spot in the grass they would like. We invite you to bring your own lawn chairs, umbrellas, pop-up tent as the Lawn does not have seating or shade. Similar to the Patio, guests in the Lawn will order their wine and local cheese and fare by using our text messaging system or through the bar located on the patio. This area is also dog friendly.