Tasting Room Reservations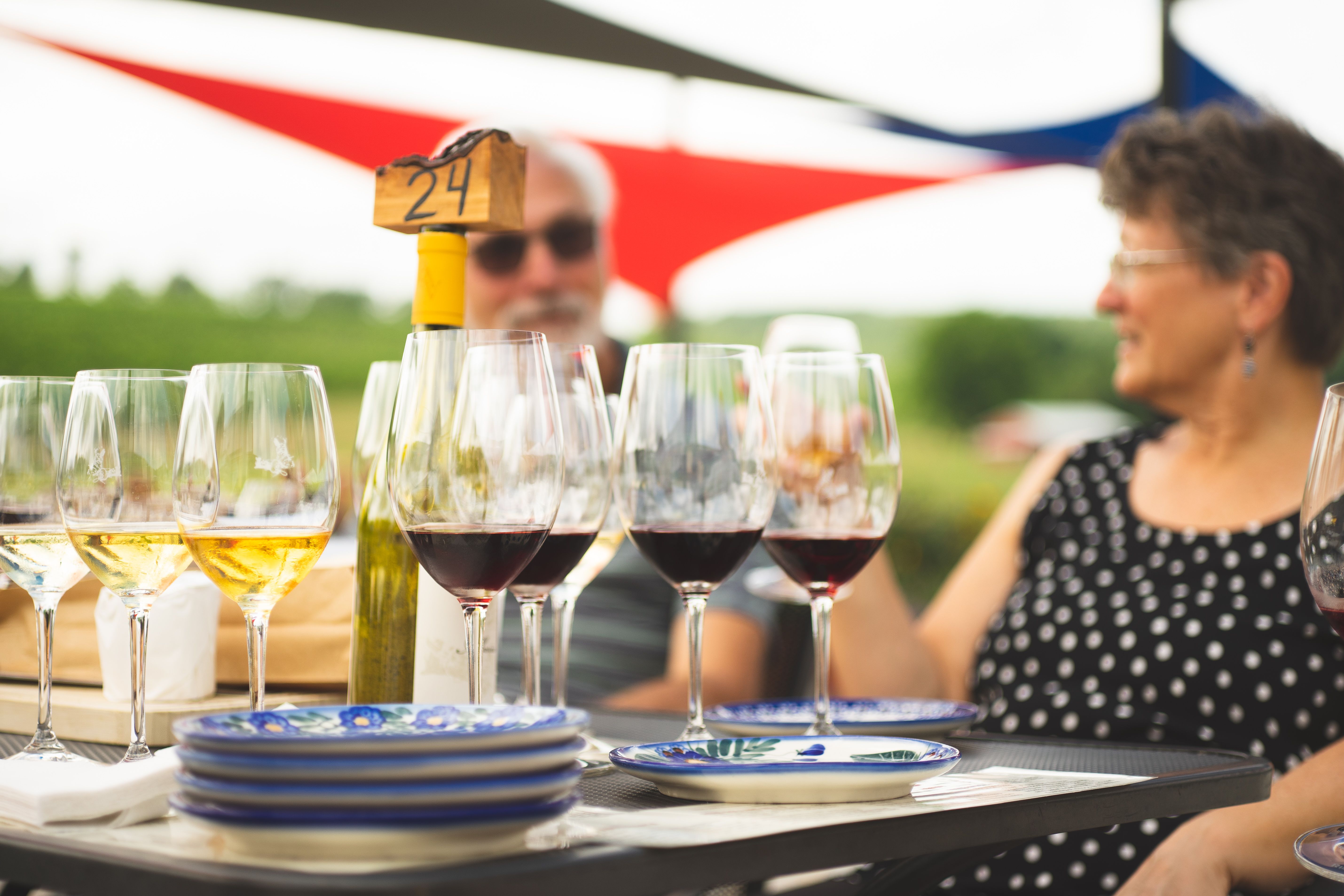 We are happily taking reservations for groups 12 or less on our Patio, Courtyard, Terrace, and Lawn areas!
Reservations for groups of 13 to 19, please email Karen at info@blackankle.com.
Reservations for groups of 20 or larger, please email Jen at Jennifer@blackankle.com.

We are now offering indoor seating in our main Tasting Room area for parties 10 or less.
**Our indoor seating is very limited and is strictly reservation only. We will not be able to move outdoor reservations inside. If you prefer to sit indoors, please reserve a table in one of our indoor seating areas.**
If you are a Club Member and cannot find a reservation space online, just give us a call at 301-829-3338 and we will find you one.
Outdoor Mask Restrictions: We encourage guests who are not vaccinated to wear a mask while moving around the outdoor common areas. Employees and customers who are vaccinated are welcome to remove their masks while outdoors. All guests may remove their masks while seated at a table outdoors.

Indoor Mask Restrictions: We ask that employees and customers wear their masks while moving around the common areas indoors. Guests who have an indoor reservation are asked to bring proof of vaccination and can remove their masks while seated at their table.
While we are not offering our typical tastings at this time, we are offering a featured flight option as well as wine by-the-glass and by-the-bottle. Members, if there is a particular wine that you want to try, please let a staff member know and we can certainly make that happen!
Rain/Storm/Snow Policy: In the event that the Tasting Room will close due to inclement weather, we will contact you directly to reschedule your visit another day.
Black Ankle is wheelchair accessible! All of our paved areas are accessible, but if visiting in a wheelchair, we would recommend sitting in the courtyard as it is most easily navigated.
To make your reservation - click here or the button above!
---
Our Seating Areas:
When making a reservation, we have outdoor and indoor seating areas at the vineyard for you to choose from! Click the buttons below to learn more about each one!
Outdoor:
Abundance of outdoor space, reservation preferred, guests who are vaccinated are welcome to remove their masks while outdoors.
Indoor:
Space is very limited, reservation only, and guests must all show vaccination cards upon arrival.
---
Fall Hours:
Monday: 12pm to 5pm
Tuesday: Closed
Wednesday and Thursday: 12pm to 5pm
Friday: 11am to 5pm
Saturday and Sunday: 11am to 5pm
Holiday Hours:
Christmas Eve: 11am - 4pm
Christmas Day: Closed
New Years Eve: 11am - 4pm
New Years Day: 11am - 5pm
Black Ankle Friday:
During the winter seaon (December to March), our Black Ankle Friday events will be put on hold and will resume in the warmer months.
Black Ankle Fridays are all about enjoying wine and fare with family and friends while soaking up the beauty and tranquility of our farm. Enjoy live music and food trucks from 4 - 8:30pm (outdoors only) every Friday night through March to November! To view our Black Ankle Friday event calendar, click here.
Second Saturday:
Our Members' Second Saturday festivities are from 3:30 - 6pm (December to March) and 6-8:30pm (April to November). We invite members to make a reservation and come by the farm to enjoy great wine, local food, and live music! To view our Members' Second Saturday event calendar, click here.
Curbside Pick Up / To Go Orders:
If you do not feel ready to visit our seating area just yet, we hope you will still visit curbside style to grab some wine and a sweet treat or a charcuterie box to enjoy at home!
We have curbside pickup everyday during our open business hours listed above. When you arrive, pull into the paved parking spots at the front of the tasting room and simply text 301-829-3338 with your last name and description of your car or walk on down to the host stand located at our front entrance and we will bring your wine to you.
Things to Know Before Your Visit
---
At Black Ankle Vineyards we strive to create an environment where people of every race, religion, sex, gender identity, sexual orientation, physical ability and background can come together to share a love of wine in a comfortable, hospitable environment. Please let us know if we can make any special accommodation to ensure that you enjoy your visit. And if we have missed something, don't hesitate to let us know how we can improve. Inquires can be sent to welcome@blackankle.com