Tasting Room Reservations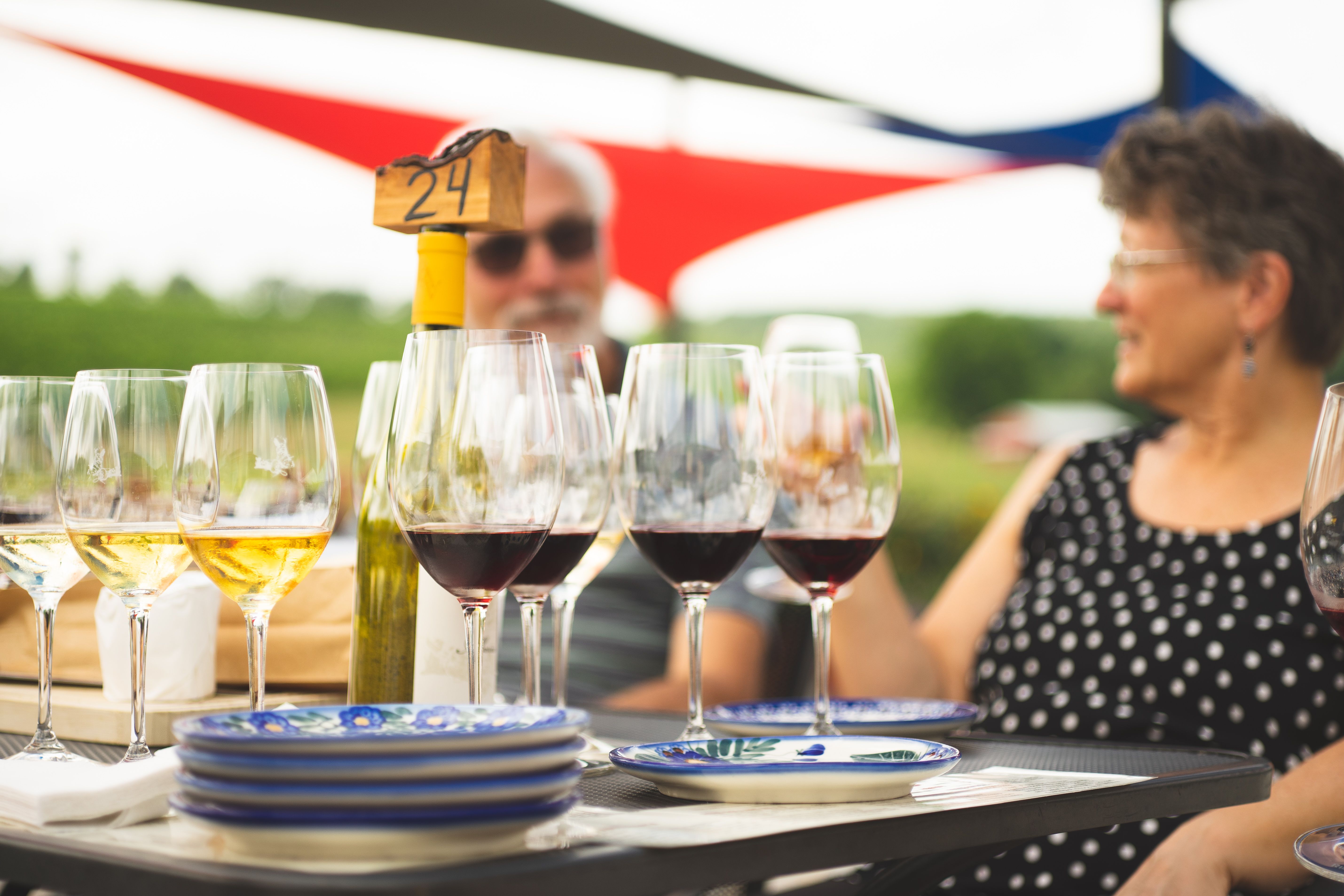 We are beyond excited to invite you back to the farm! We are now open 7 days a week by reservation only. Bring a picnic or enjoy our local artisan cheese and fare from our carefully selected menu. Whether you are looking for a custom experience or just wanting to relax with a bottle of wine in the sun, we are here and we cannot wait to host you :)
Reservations are available on our Courtyard, Patio, Terrace, and Lawn sections. If you are a member looking for a reservation, but can't find one online send us a text at (301) 829-3338 and we will get you set up! By booking a reservation you are guaranteed table-side service in one of our paved seating areas. On a busy day, walk-ins will be guided to our lawn area and will be asked to order from a register station.
We currently welcome parties of EIGHT or less (children included) in our seating areas and TWELVE or less on our lawn. Friday to Sunday (our busy time!), parties ranging from SIX to EIGHT are only able to book tables on our Courtyard area. Parties 6 or less can book on our Patio and Terrace. For the safety of our guests and staff, we are unable to accommodate groups larger than twelve during normal business hours. No exceptions. If you are interested in booking a group of twelve or more on a weekday or during off hours, email info@blackankle.com.
All guests visiting Black Ankle are required to wear masks while indoors, however, we are no longer requiring the use of masks outdoors. All Black Ankle staff will continue to wear masks indoors and outdoors while helping guests.
While we are not offering tastings at this time, we are offering a featured flight option as well as wine by-the-glass and by-the-bottle. Members, if there is a particular wine that you want to try, please let your server know and we can certainly make that happen!
Black Ankle is wheelchair accessible! All of our paved areas are accessible, but if visiting in a wheelchair, we would recommend sitting in the courtyard as it is most easily navigated.
To make your reservation - click here or the button above!
Our Seating Areas:
When making a reservation, we have four seating areas at the vineyard for you to choose from! Click the buttons below to learn more about each one!
Spring / Summer Hours:
Monday through Thursday from 12pm to 5pm
Friday from 11am to 8:30pm
Saturday to Sunday from 10am to 6pm
Black Ankle Friday:
Black Ankle Fridays are all about enjoying wine and fare with family and friends while soaking up the beauty and tranquility of our farm. Enjoy live music and food trucks from 6 - 8:30pm (outdoors only) every Friday night! To view our Black Ankle Friday event calendar, click here.
Second Saturday:
Our Members' Second Saturday festivities are now LIVE and IN PERSON (outdoors only) from 6 - 8:30pm. We invite members to make a reservation and come by the farm to enjoy great wine, local food, and live music! To view our Members' Second Saturday event calendar, click here.
Curbside Pick Up / To Go Orders:
If you do not feel ready to visit our seating area just yet, we hope you will still visit curbside style to grab some wine and a sweet treat or a charcuterie box to enjoy at home!
We have curbside pickup everyday during our open business hours listed above. When you arrive, pull into the paved parking spots at the front of the tasting room and simply text 301-829-3338 with your last name and description of your car or walk on down to the host stand located at our front entrance and we will bring your wine to you.
Things to Know Before Your Visit
---
At Black Ankle Vineyards we strive to create an environment where people of every race, religion, sex, gender identity, sexual orientation, physical ability and background can come together to share a love of wine in a comfortable, hospitable environment. Please let us know if we can make any special accommodation to ensure that you enjoy your visit. And if we have missed something, don't hesitate to let us know how we can improve. Inquires can be sent to welcome@blackankle.com