Tasting Room Reservations
We are beyond excited to invite you back to the farm! We are now open 7 days a week for curbside/on-site pickups by reservations only. We welcome parties of 6 or less (including children) to book an outdoor reservation on our front patio area, back courtyard area, and lawn.
To allow for other guests to visit and enjoy the farm, all reservation time slots will be allotted for 2.5 hour picnics with the exception of reservations made at our final booking time which will be allotted 1.5 hours. While we are not offering tastings at this time, we will be featuring flights, by the glass, and by the bottle purchases. Bring a picnic or enjoy our local artisan cheese and fare from our carefully selected menu. Whether you are looking for a custom experience or just wanting to relax with a bottle of wine in the sun, we are here and we cannot wait to host you :)
While we finish up on our construction on the front patio and other areas, we ask that you please head directly to the back entrance to see the host rather than the front entrance.
Children are always welcome! We just ask that all children be included in the party size and remain with their parents/guardians throughout the duration of your visit. For the safety of yourself and our guests, no sports games are allowed in the lawn or seating area at this time.
At this time, we are not able to accommodate groups 6 or larger during our normal weekend hours. If you are interested in booking a group on a weekday or during off hours, email info@blackankle.com.
Rain Policy: It is important to note that reservations are for outdoor areas only as we cannot allow for indoor seating during Phase 2, and in the event of rain, we will contact you directly to see if you would like to reschedule your visit for a sunnier day.
We are now open 7 days a week! Our hours are Monday through Thursday from 11am to 6pm, Friday from 11am to 8:30pm, and Saturday to Sunday from 10am to 6pm.
Second Saturdays and Fireside Fridays will continue with food trucks and musical entertainment starting at 6pm and table service ending at 8:30pm. Live music will perform on the front Patio area. Seating will be limited and reservations are required.
Below is a map of the various sections available for reservations.
Click on your preferred section to book your table.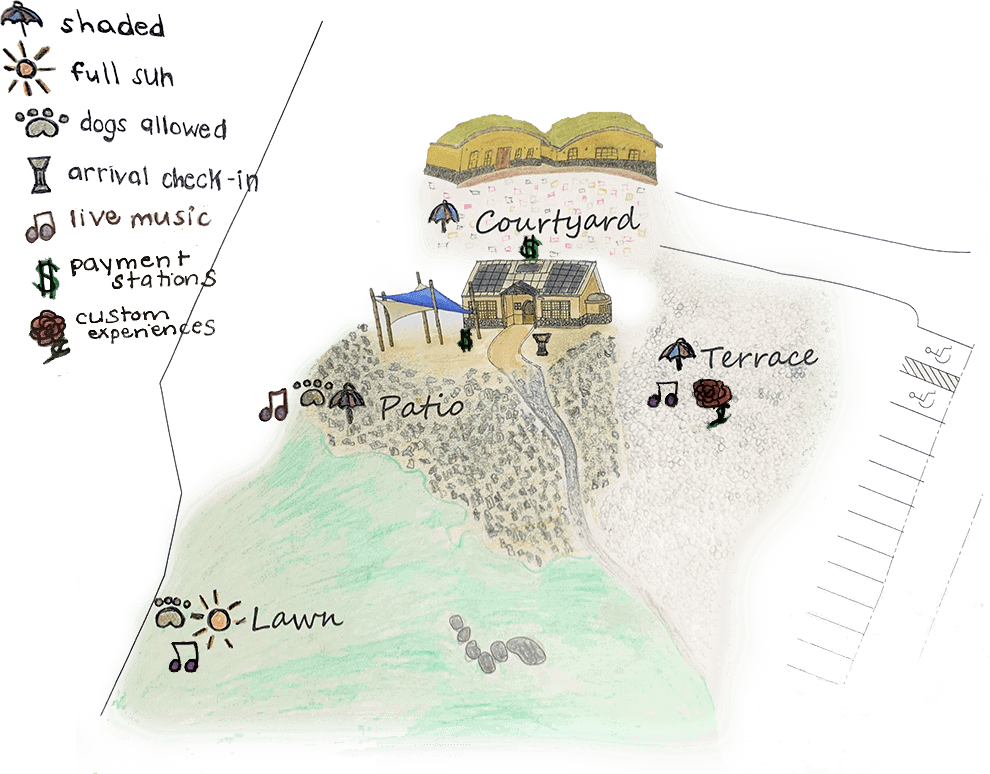 Curbside Pickup / To Go Orders
If you do not feel ready to visit our seating area just yet, we hope you will still visit curbside style to grab some wine to enjoy at home! We have curbside pickup everyday during our open business hours listed above. When you arrive, pull into the paved parking spots at the front of the tasting room and simply text 301-829-3338 with your last name and description of your car.
Protective Measures
With the reopening of the tasting room outdoor areas, the health and safety of our customers and employees is a high priority. To prevent spread and to ensure the health and safety of individuals on a daily basis, we have implemented protocols that will limit employee to customer and customer to customer contact and regimens that will ensure around the clock sanitizing and disinfecting of all customer and employee contact touch points and surfaces.
In light of this new phase, we ask that customers respectfully social distance, wear face coverings when not seated at a table, and use our hand sanitizing stations when entering and exiting the building for restroom use (four patrons in the building at a time). We also ask that any customers who may be showing symptoms of COVID-19 to please stay home.
If you have any questions at all regarding your visit or about our current protocols, please feel welcome to email us at info@blackankle.com.