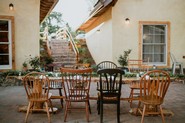 Uncorked: Black Ankle Vertical Gift Certificate
Premium Wine + Three Different Vintages + Side by Side
A private tasting of premium wines from past to present paired with a curated spread of local cheeses and fare. Count on library wines in this experience with the possibility of tasting a pre-release. This is a great opportunity for our guests who are curious about our aging process.
To gift this special Black Ankle Uncorked experience:
Simply choose the item below in the dropdown menu and follow the prompts. Upon receiving your order, a beautifully crafted gift certificate will be mailed to you or your recipient (your preference).
The certificate will be mailed out to you or your recipient within 24 to 48 hours.