Black Ankle News & Updates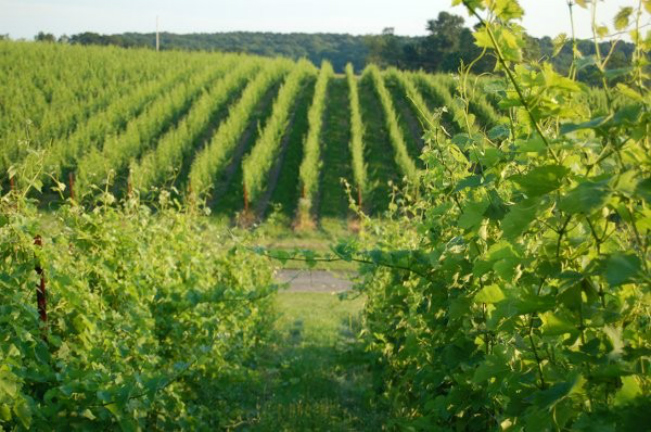 Dear Wine Club Members,
Happy Spring! This is a lovely time of year for us in the vineyard, when the vines begin to leaf out again, the weeds are still too small to be much of a bother and flowers seem to be blooming everywhere. As the new season opens, it always seems to hold the possibility that this might just be the year that we have a perfect growing season. I'm sure that by the August letter, we will be discussing the ups and downs of what has actually happened out there, but for now we can imagine only good things.
To add to the fun this spring, we have just added three new acres of grapes to our vineyard, bringing our total planting up to 45 acres. The new acreage is about half Cabernet Sauvignon and half Cabernet Franc, and is located just below the vines at the far end of the driveway closest to the red barn, at the top of what used to be the cow paddock. (Yes, that is why the cows are gone, because we needed to make room for more grapes!)
For planting, we bring in a special crew from the Finger Lakes who have a GPS-driven planting tractor and rig. The machines are a remarkable combination of new and old technologies. The tractor is completely driven by GPS – the driver made a point of dancing around and waving his hands as the tractor drove perfectly down the rows – his only job is to brake, as apparently, the GPS has not figured out that part yet. The planter itself is like a contraption out of Willie Wonka's Chocolate Factory, or Chitty Chitty Bang Bang (am I dating myself here?!?) – a series of bent-wire clips rotate around so the operators can place vines in them by hand, and a ferris-wheel of planting "fingers" sweeps around in the perpendicular direction to pick up each vine and place it into a trench that has been opened in the ground by the planter. The exact placement, however, is dictated by the GPS, which tells the "finger" when it can release the vine, so it is exactly a meter from the vine before it. A pair of angled wheels then closes the trench behind the planted vine. The whole process moves along quite quickly and our only glitch (aside from encountering a few giant rocks, which are just part of what we expect any time we try to dig into the ground around Black Ankle) was a brief period when we lost contact with a few necessary satellites. The GPS needs to read about 8 satellite signals to get the level of accuracy needed to place the vines correctly and for about an hour we lost connection with several of them. Apparently the signals are often weaker in the afternoon, and are made worse by humid weather and pine trees, which act as antennas and draw the signals toward them – the bizarre things that we learn in this job!
We have several new wines for this quarter's shipment:
The 2015 Piedmont is a new wine for us in the tradition of our blended whites – Bedlam and Quartite. It is a blend of 47% Grüner Veltliner, 22% Albariño, 28% Viognier and 3% Syrah. It is both refreshing and complex, boasting aromas of honey suckle and pear, followed by crisp citrus flavors and a minerally finish. At only 181 cases produced, this wine will go largely jus to members.
Passeggiata IX is almost sold out for the year, so we are happy to include it in your spring wine club allotment before it is gone! This lively blend is perfect for the warm weather we hope is coming soon. It is fresh, and flavorful, medium-bodied, and a Black Ankle favorite.
Slate 3 is very well structured with sturdy tannins, robust fruit, and ample length, depth, and intensity. Every year at the blending table we hope to be able to create some wonderful Bordeaux-style blends. Our first rendition of Slate came about during our blending session in 2011, and this release is just the third time we have been able to produce a wine we want to call Slate since then. It was bottled on April 15th of this year, so it is very young in the bottle. We would recommend hiding it in the back of your wine cabinet (or closet!) for as long as you can wait!
The 2015 Terra Sol, although not included in this allotment, is worth talking about! In a few earlier letters, you may recall, we talked about our plans to experiment with making a late harvest wine from some of our Grüner Veltliner and Muscat last year, and this wine is the happy result of that experiment. It is dessert wine made in the tradition of late harvest wines around the world. The grapes are left to hang on the vine a month or more after the rest of the harvest has been taken in, in the hopes that botrytis, known romantically as noble rot, will take hold. The botrytis dehydrates the grapes, reducing the volume of juice by more than 70% but also concentrating the sugars, acids and flavors. Once the grapes are picked and carefully sorted and pressed, an achingly slow fermentation (6 months is typical) finally dies out, leaving much of the natural sugar in the wine. The result is a rich, delicate and tantalizing wine. Enjoy!
Cheers,
Sarah (and Ed)
Dear Wine Club Members,
Happy February and welcome back to Black Ankle Vineyards! Our winter closing was short this year, but just enough time for us to finish up a bit of the work that has been underway in the tasting room all year. While last year's look was what we liked to euphemistically call Construction Chic, this year, we are going for a slightly more comfortable, pulled-together feel. Finally!
Our new grotto room (formerly the wine storage cave) is finished and ready to welcome you with a cozy space and open fireplace. We have installed a new cork floor in the tasting room which should make life much more comfortable and help to tamp down the noise a bit. The stone-work on our new back patio is complete, and we are just waiting for some warmer days to make that the perfect space to kick back and relax with a glass of wine. We managed to cover up all the last bits of dangling straw hanging out of the walls (in case you had ever doubted what the walls were really made of, we wanted everyone to be able to get a good long look…). We have put a fresh coat of paint on the walls and voila!, the place has a whole new feel. There are still a few details to put in place, but it feels like we are making some real progress towards making our place more comfortable and welcoming to all of you and your guests. (Yes, more bathrooms are coming, I promise. You can peek out the back window to see their outline, and we will have them finished soon.) We appreciate your patience as we have gone through this process! And last but not least, for those of you with plug-in vehicles, we have installed 6 car chargers (3 general, 3 Tesla specific) just above the fire lane – with our total solar capacity now close to 90KW, you can come fill those batteries with Black Ankle Vineyards sunlight.
You may also notice a few new faces here consistently (and on social media)! We are excited to say that we have added three folks to Melissa's tasting room management team. These guys and the rest of our part-time tasting room crew will continue to provide you all with excellent customer service as we grow. A big welcome to Christina Calloway, Rebecca Serio, and Kaitlyn Rollyson. If you see them zipping around, give them a shout hello!
In other tasting room news, we are experimenting with adding a wine flights option. Of course, you can still come in any time to have a regular tasting, but we are also going to try out offering wine flights. These flights will include current wines, but they will also allow us to occasionally bring out a few favorites from the library to let you see how they are aging or give you a sneak preview of wines that have yet to be released. We think it will be a lot of fun to give everyone a chance to try something different now and then. The flights will be somewhat limited in supply, so it is best to reserve your spot in advance if you know you are coming. We will see how it goes for a few months, so let us know what you think.
So, now for a few details about some of this quarter's wines…
The 2014 Rolling Hills is 46 % Cabernet Sauvignon this year, with 26% Merlot, 21% Cabernet Franc, and 7% Petit Verdot. It is full-bodied, lively, and balanced with a lovely lingering finish. We have made a Bordeaux-Style blend called Rolling Hills almost every year, and it tends to be one of our most popular releases for red wine lovers.
For all you Slate fans out there, Feldspar II should be a favorite. A soft, beautiful wine which came together so nicely at blending. It's strong tannins and full mouth feel are supported by flavors of red fruit, black cherry, and light spice. This wine is drinking beautifully right now, but we expect it to have a good aging life, so don't hesitate to keep it for a while if you prefer.
The 2015 Albariño is full of flavor! For the first time in 2015, we blended our albariños with a bit of viognier to provide better balance (the albariño by itself seemed a bit too acidic and heavy). This wine in particular is a great food wine – in fact, in our February staff news letter we suggested pairing it with an appetizer called "Crabbies". Let us know if you want the recipe, but we should say it involves a lot of crab and butter!
The 2015 Grüner Veltliner is my favorite GV to date. After years of experimenting with the best way to grow and make this wine, we have discovered that even when the fruit looks like it is falling apart on the vine, the flavors are still developing. Leaving it to hang a bit longer in the vineyard yields a riper, more mouth-filling wine. After harvesting these grapes later than usual, we fermented the juice 100% in stainless steel to preserve its freshness and delicate aromas. It took a little extra nerve and patience to make this wine, but it has proved well worth it.
Cheers,
Sarah (and Ed)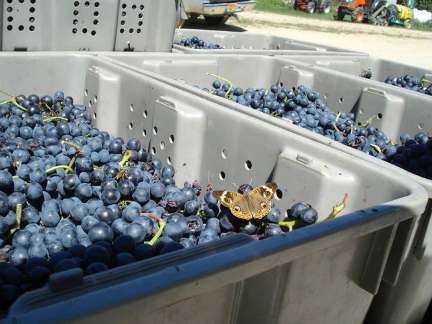 Dear Wine Club Members,
Happy August! We hope you are surviving the record-setting hot summer without too much strife. As miserable as the heat makes all of us humans, it's all good news for the grapes, so for us personally it is worth it. I hope next summer at this time you will be enjoying the fruits (or, more to the point, wines) of this season's warm weather and that will make up for any misery now.
One of these letters I am actually going to be able to report – "Yay!! The construction of the tasting room is complete!" Unfortunately, it is not this letter. The project is grinding along a bit more slowly than we had hoped it would due to the usual set-backs that will be familiar to you if you have ever taken on a renovation or construction project. I won't get into the boring details, but I promise we are working as hard as we can to move things along, and one of these days we will have a great new space available for all of you.
So, onto the good news. Grapes! One of the things that both Ed and I (Sarah) love about this project is that is gives many opportunities to experiment and try new things. When we were first learning about how to grow and make Grüner Veltliner I was lucky enough to spend 10 days exploring Austrian wine country and meeting with numerous growers. Austria is the home of GV and the Austrians have made an art out of making these wines for centuries. Grüner Veltliner is famous for its versatility – its ability to make interesting wines at many different levels of ripeness. Many Austrian growers allow their vines to set varied crop levels and will pick the same vineyard blocks in multiple passes to make different styles of wines from the same vines. This year, our younger GV, which we planted in 2011, is mature enough that we feel we can take on a few experiments of our own. We have decided to severely cut back the yield on our older planting (from 2004) and split our 2011 planting into two parts – one with a moderate crop and one with a relatively high crop that will be left on the vines for a sweet, late harvest wine. The idea is that we will end up with 3 very different wines. One should be a very concentrated, rich, dry table wine, one will be a lighter style (also delicious, but more on the refreshing side of the spectrum) and the last will be a super concentrated dessert wine, which we will only ferment partially so it will retain some sweetness and a very smooth mouthfeel. A lot of variables have to fall into place for this too all work out as planned (if the weather doesn't cooperate, we may lose all the late harvest grapes), but it will be interesting to see what comes of this experiment. We will keep you posted on our progress and, if all goes well, you will be able to taste the results in the next few years.
So, on to the wines in this quarter's shipment:
The 2015 Rosé is finally ready for release. We had a chance to visit Bandol in France this year, the home of French Rosé, where tasted some of the world's best, and we feel this wine holds up very well vs. those. Red fruit and flower aromatics give way to a smooth, long lasting wine with our signature roundness and concentration. Drink now through next year.
Our two 2015 Albariños are similar and yet different. Both are primarily from the same block of vines, but we experimented with the amount of leaves shading the bunches. The 2015 Albariño is made from the "sunny and warm" grapes, and shows real concentration and boldness. The 2015 Albariño Alegrìa is made primarily from the "shady and cool" grapes, and exhibits more delicate aromas and flavors. Both have some Viognier blended in to balance out the very high acidity we got in 2015, and it adds richness and body to both wines.
The 2013 Crumbling Rock is destined to be one of our finest efforts. 2013 was a great year for reds and we think that our signature Bordeaux-style blend is lives up to that and more. Concentrated, aromatic, rich, long, and smooth, the 2013 is still nimble enough to perform well on the dinner table. It is drinking very well right now, but for those of you who like to age your wines, this one has all the earmarks of a wine that will improve for a decade or more and drink well for many years beyond that. We have a decent but not inexhaustible supply (we made a shade under 600 cases) and you may add some more onto your wine clubs if you like. Caveat emptor - we will not make a 2014 Crumbling Rock, so it will be two years before we have more CR available.
Cheers,
Sarah (and Ed)