Black Ankle News & Updates
Dear Black Ankle Wine Club Members,
Growing up, I was taught that if you can not say anything nice, you should not say anything at all. This growing season (a long, late winter was followed by heavy spring rains, and heavy summer rains, and heavy fall rains), it has been harder and harder for me to answer questions about how the weather has affected us and still, as they say, listen to my Mamma. I am going to give it a shot here, but don't be surprised if this ends up being a very short letter…
2018 will go down as the rainiest year in the history of Maryland. From May 1st through September, we have received almost 4 times our normal rainfall total. When we set out to grow wine in the Eastern United States, we signed up willingly for the fact that we would have variability among seasons. The differences that each year bring keep life interesting and give each new vintage some distinctive character. Our California colleagues regularly ask us if we dry-farm (California-speak for farming without irrigation) or if we irrigate our vines. They are usually a bit puzzled at first when I answer, "No and no." We do not irrigate, but we are not ever "dry-farming" around here – we get natural "irrigation" from the sky and we are prepared for that. Water management is one of the key factors in most of our vineyard development decisions: we have a hilly site, which will catch less initial rainfall, from which rain will run off quickly, and our soil is extremely well-drained and rocky with very limited water holding capacity. The rain that sinks in is dispersed very quickly and we have chosen rootstocks for our vines that are purposely inefficient in their use of water so that the vines are limited in how much rain they can absorb – the list goes on and on and all of these factors have made a huge difference this year. Our vineyards were designed to rise above in vintages like 2018, even though we would prefer more years like 2016 or 2017.
All of this to say that, while this year has been challenging, it has not been disastrous. The biggest impact that this rainy year has had on us, aside from a few grumpy days wishing the sun would finally shine, is that we have a very small crop. Grapevine flowers are extremely delicate and susceptible to rain during the flowering and fruit set period in the late spring/early summer and we had heavy rains during much of that period this year so our vines set a very small crop. As it turns out, that may have been good news in disguise. A small crop means that each vine is trying to ripen less fruit than it otherwise would, so despite the distinct lack of sunshine that this year has brought, the vines have been able to ripen the fruit that remained. We still have a few varieties left to harvest (and yes, we are still rooting for a few more sunny days!), but what we have picked has been surprisingly good, if not plentiful. All in all, we ended up working significantly harder to pick about half the crop we picked in 2017.
On the plus side for us, the last three vintages (2015, 2016 and 2017) were excellent, and we still have a decent number of barrels from those years tucked away in our cellar. As you know, we are not shy about mixing vintages to improve the balance between vintages, so keep an eye out for numbered instead of vintage-marked wines in the next few years as we pull from some older vintages to balance out this one. And since we got all the rain in 2018, there isn't much left for 2019, right?
So, on to this quarter's new wines:
The 2017 West Hill Chardonnay is medium-bodied and easy drinking with a lush mouth feel and juicy acidity. Aromas of yellow apple, starfruit, and pear are supported by a palate filled with tropical fruits, citrus zest and hints of creamy custard. Its finish is long and smooth. About 50% of the juice in this wine went through malolactic fermentation, a process in which tart-tasting malic acid (think biting into a granny smith apple) is converted to softer and smoother-tasting lactic acid (acid found in milk), making for a wine that we think has the perfect balance of acidity and structure.
The fourth rendition of Slate (also known as Slate 4) will be released to members only with this quarter's allotment. It will either be included in your selection or offered as a wine you can add or swap for. It is a rich and balanced, full-bodied Bordeaux-Style blend that demonstrates diverse aromas and flavors of dark fruits, spice, anise, and tobacco leaf. It is clean and smooth but with plenty of verve, making for a complex, elegant and refined wine. As always, this wine demonstrates great ageability but is tasting wonderful and fresh should you choose to drink it sooner rather than later!
Well, so much for my short letter! Never trust an Irish woman who tells you she is going to tell a short story and enjoy your wines!
Cheers,
Sarah (and Ed)
Dear Wine Club,
Happy Summer! Many of you have heard that we have purchased two new farms, with the idea of both expanding the amount of wine that we have available for Black Ankle Vineyards and creating a new sales and tasting space. The new public space will be located in Clarksburg, on Peach Tree Road, just off Route 270. We planted the first five acres of grapevines in Clarksburg this spring, so we are off and running!
We are also excited to announce that we have settled on a name for the new farm: Live Edge Vineyards. Why Live Edge? Often it is the little imperfections in things that make them so interesting. Woodworkers refer to a Live Edge when they have left the natural shape of the tree to decide the couture of a finished piece of work. The idea is that what has grown naturally is infinitely more varied, subtle and beautiful that what a woodworker would create in the shop. In much the same vein, many gemstones get their colors from chemical impurities that turn otherwise clear crystals into dazzling blues, greens or reds. A forest is enchanting not because of its regularity, but because of the vast array of sizes, shapes, colors, textures and smells that can be found there. Straight lines and square corners have their uses, but nature almost never creates a crisp line or a perfect corner. Rather the rule of nature is curves, contours and an ever-changing landscape. Great wine is much the same way. A wine that is perfectly consistent from the start of the bottle to the finish, or from day to day or year to year, can be pleasant, but never exciting. The fascination of an extraordinary wine is how it can change over time or based on what it is paired with, or even our moods or the time of day; how it can spark our imaginations and add joy to our lives.
At both Black Ankle and Live Edge Vineyards, our aim is to capture the interest and complexity of nature in each bottle of wine that we make. We work hard to create an environment in which our grapevines can flourish and then stand back and let the plants to their work, so that they create grapes with depth, character and finesse. In the winery, we feel that our job is to help the wines through the fermentation and aging process but give them the room to express their individuality so that at the end of the day, we have wines that are more compelling than anything we could create without letting nature run the show. Wherever we can, we believe in letting a little Live Edge shine through. We will keep sending out updates as our project progresses. Wish us luck!
As you try your wines for this shipment, you may notice that we have started using a new type of closure. We are constantly looking for ways to make the experience of Black Ankle Vineyards better and more consistent in any way we can. Bottle closures may not be at top of anybody's glamour list for making the best possible wines, but they have a crucial role to play in how our wines perform over time. We work very hard to farm, ferment and age the best wines we can, and we get very frustrated when all that hard work is undone by a flawed closure. All the different types of closures have their strengths and weaknesses and we have historically decided that corks, flaws and all, are better for our wines than anything else out available.
For our 2018 bottlings, we have decided to try something new and start using Reserva closures, a new product on the market. The Reserva corks are made from waste sugarcane husks, so they are a manufactured product made from natural raw materials. They appealed to us for a number of reasons:
Because of the materials which are used to make the closures, they cannot host the chemicals that cause cork taint, which previously made about 1% of our bottles smell like Grandma's basement.
Very low "Oxygen Transmission Rate" – a fancy way of saying they seal tightly, keeping more air out than corks, so the wines will age more gracefully and we have greater control of what will happen to the wines once they are bottled.
Much reduced bottle variability – each regular cork is slightly different, leading to bottle to bottle variability in our wines, while the Reserva closures are identical, so while wines will still develop and change over time, on any given day, wines from the same vintage should be in the same place in their development.
Zero carbon footprint – the Reservas are made from sugarcane waste by a very gentle process (corks excel in this area as well, while screwcaps don't), so they are actually making constructive use of what would otherwise be a waste product.
We think this change will give us better and more consistent wines (more vibrant whites and roses, better aging reds) and for us that is enough to make the switch. Please let us know what you think – we welcome your feedback! For this quarter's wines, the Feldspar III has the new closures, as does the Bedlam Rose.
Cheers,
Sarah (and Ed)
Dear Black Ankle Wine Club Members,
Rocks, rocks, rocks, rocks, rocks. Sometimes we get a little obsessed, but if you are into vineyard soils in our region you can never get enough of rocks. Grapes can grow nearly anywhere, but the grapes that make the best wines need to work hard. Rocky soils mean less water and nutrient for the vines, which struggle to survive and as a result make more interesting wines. As I recently heard it so elegantly put, grapes are like people – the ones that have struggled in life have the best stories to tell. And we want nothing if not wines with stories to tell. Therefore, our little obsession with rocks.
We have spent much of the last two years in search of more rocks. In early 2016, since we had already planted most of the vineyard land at Black Ankle, we decided that the time had come to look for some more growing locations. This has involved pouring over topo maps, reading soil surveys and scouring hillsides to look for the rockiest, lousiest soils that we could find. Last fall, we hit the motherlode – not one, but two farms that seemed too good to pass up. Each had its own personality and points of interest, so we decided to take the leap and buy them both. We purchased one in December and one in January. It has been an exciting winter for us!
One farm is just North of Westminster in Carroll County, and looks like it will be an excellent growing location for our difficult reds, like Cabernet Sauvignon and Syrah. The other property is in Clarksburg, in central Montgomery County and will be home to several red varieties as well as whites for both still and sparkling wines. It is also easy to get to, so we are planning a whole new sales and tasting facility there – stay tuned for more information on that! (Best case scenario, it will open in 2023, so mark your calendars!)
So, back to the rocks…we spent an awesome, if very chilly, day early in March digging soil pits on the Carroll County farm with a geologist who specializes in vineyard soils and is helping us to build a detailed map of our soils. I had never seen a geologist jump up and down in excitement before, but we did that day as he looked at the huge pile of rocks that is what passes for soil on that farm. One hole was rockier than the next and the array of colors and textures that we pulled from the ground was amazing. I couldn't resist pulling out samples, and my kitchen counter is currently covered in a rainbow array of rocks. Perhaps the coolest find was when we cracked open a sample rock and found perfect black pyrite crystal cubes, nicknamed Devil's Dice. It was like discovering a secret treasure. We can't wait to discover what wine treasures this farm will be able to produce in the coming years. If the piles of rocks that we found are any indication, our wines will have some great stories to tell!
Below is a list of some of the wines that are included in our allotment this go around:
2016 Viognier
Weighty and beautifully balanced, this wine is rich and luscious with aromas and flavors of tropical fruits, honeysuckle, and citrus. There is a creamy, honeyed characteristic to this wine that rounds out the minerality and a hint of white pepper on that long finish. We produced 325 cases.
Aromas: floral, tropical fruit, honeysuckle, pineapple and banana
Palate: honeyed and creamy, tropical fruits: guava, pineapple, banana with hints of ripe pear and apricot. Mineral and a trace of white pepper on the long finish
2015 Leaf-Stone
The 2015 Leaf-Stone is an exceptional wine. At 100% Syrah it clearly represents what Black Ankle's soils can do with this distinct Rhône variety. With balanced length, mouth feel, and flavor, the 2015 Leaf-Stone is both bold and refined. We produced a tiny 225 cases, and are sold out of this wine except for what we are holding in your allotment.
Aromas: Dark fruits swirled with a hint of earthiness. Black currant, blackberry, licorice, spice, sweet tobacco, pepper, and a hint of cured meat.
Palate: Black currant, black cherry, vanilla, blackberry, tobacco, black pepper, mineral, and plum. Finish is long, warm, and peppery.
2015 Crumbling Rock
We just can't get enough of this wine. One of our signature Bordeaux-Style blends, the 2015 Crumbling Rock is rich and lush, while elegant and sophisticated. It is smooth drinking with a refined tannin structure. We think this wine has tremendous age ability, and we would recommend laying it down for a while (although it is tasting lovely now if you can't wait). We produced 1,210 cases.
Aromas: Earthy notes lead into black plum, sweet wood/tobacco, black cherry, vanilla, cranberry notes with a hint of dried herbs and licorice. There is also a tease of floral (violet) aromas as it warms up.
Palate: Dark fruit flavors of plum, black currant, blackberry and cranberry interspersed with cedar, graphite, ending with pepper spice and some mineral notes. Very nice viscosity and finish, full bodied.
Cheers,

Sarah (and Ed)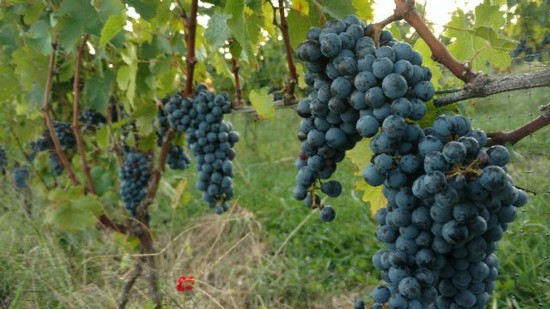 Dear Wine Club Members,
Happy fall! As I write this we are heading to the end of our growing season and things ae humming along like crazy in the winery. I swear every year that I won't jinx us by making predictions about the season and the weather until everything is in the winery door, but I just can't help myself. As I gaze out onto this beautiful, dry, sunny fall day, it is hard to feel anything but optimistic. Life just seems a little better when there is the prospect of a delicious glass of wine at the end of the day (or year)!
I think making red wines is one of the most fun things that we get to do all year, in large part because it is the most active, messy process in the winery. When we make white wines, the grapes are pressed immediately after harvest, so only juice goes into the tank. The work of making white wines is mostly about protecting them from air contact and treating them delicately so that their aromas are preserved. It takes a lot of care, finesse and attention, but there is very little interaction between wine maker and wine.
Making red wines is a totally different story. For red wines, the whole berry goes into the tank, and a big part of our job as winemakers is to extract as much aroma, flavor and interest from the skins as we can. In order to do this, we spend a lot of time each day doing what we call pumpovers. This process involves creating a contained waterfall of juice, so that the wine splashes through the air and picks up oxygen to fuel the yeast which are fermenting the wine. The fermenting juice is then pumped through a hose to the top of the tank, and sprinkled over the top of the skins in the tank so that it trickles by the skins to pick up color and flavors.
I love this process. First of all, it is noisy; the wine is splashing around everywhere and I have the sense that you can actually hear the wine being made. Secondly, the air is filled with the aromas of the fermenting juice and from day to day, you can actually smell the juice becoming wine. Finally, it is visually beautiful. As the juice picks up more and more color from the grape skins, day after day, it becomes darker and more vibrant and it feels like you can actually see the juice becoming wine. Of course, we are tasting the wines along the way, but we get to spend a lot of our lives tasting – it is just for a few days each year that we get to tap into all our other senses making wine.
Below is a bit of information about some of our newest releases.
The 2016 Viognier is being introduced in our fall club. It is 100% viognier this year, and is full of light fruit flavors, floral notes, and a robust mouth feel. With just about 2 acres of viognier planted, our production of this wine is on the smaller side, with just 325 acres produced. Viognier goes great with spicy foods, a variety of seafood and shell fish, and other fun seasonally fall dishes!
The Passeggiata X (can you believe we have made 10 Passeggiatas?), is as fragrant, flavorful, and light as ever, dancing across the palate like our first vintage in 2006. As many of you know, this patio wine is known for very soft tannin (if any), robust fruity flavor profile, and a touch of vanilla or butterscotch on the nose. It is especially well-paired with turkey if you are looking for Thanksgiving wines.
Cheers,
Sarah (and Ed)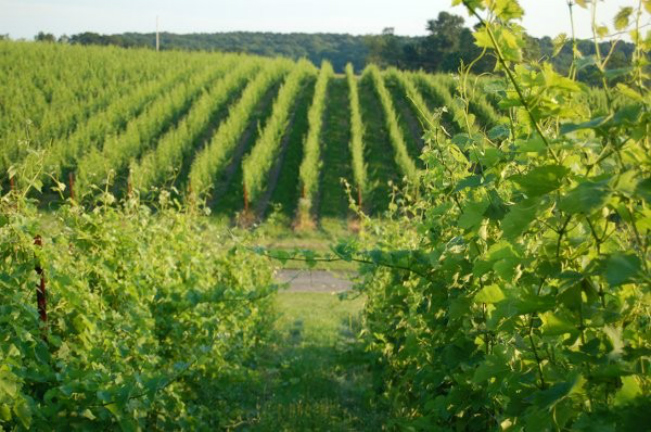 Dear Wine Club Members,
Happy Spring! This is a lovely time of year for us in the vineyard, when the vines begin to leaf out again, the weeds are still too small to be much of a bother and flowers seem to be blooming everywhere. As the new season opens, it always seems to hold the possibility that this might just be the year that we have a perfect growing season. I'm sure that by the August letter, we will be discussing the ups and downs of what has actually happened out there, but for now we can imagine only good things.
To add to the fun this spring, we have just added three new acres of grapes to our vineyard, bringing our total planting up to 45 acres. The new acreage is about half Cabernet Sauvignon and half Cabernet Franc, and is located just below the vines at the far end of the driveway closest to the red barn, at the top of what used to be the cow paddock. (Yes, that is why the cows are gone, because we needed to make room for more grapes!)
For planting, we bring in a special crew from the Finger Lakes who have a GPS-driven planting tractor and rig. The machines are a remarkable combination of new and old technologies. The tractor is completely driven by GPS – the driver made a point of dancing around and waving his hands as the tractor drove perfectly down the rows – his only job is to brake, as apparently, the GPS has not figured out that part yet. The planter itself is like a contraption out of Willie Wonka's Chocolate Factory, or Chitty Chitty Bang Bang (am I dating myself here?!?) – a series of bent-wire clips rotate around so the operators can place vines in them by hand, and a ferris-wheel of planting "fingers" sweeps around in the perpendicular direction to pick up each vine and place it into a trench that has been opened in the ground by the planter. The exact placement, however, is dictated by the GPS, which tells the "finger" when it can release the vine, so it is exactly a meter from the vine before it. A pair of angled wheels then closes the trench behind the planted vine. The whole process moves along quite quickly and our only glitch (aside from encountering a few giant rocks, which are just part of what we expect any time we try to dig into the ground around Black Ankle) was a brief period when we lost contact with a few necessary satellites. The GPS needs to read about 8 satellite signals to get the level of accuracy needed to place the vines correctly and for about an hour we lost connection with several of them. Apparently the signals are often weaker in the afternoon, and are made worse by humid weather and pine trees, which act as antennas and draw the signals toward them – the bizarre things that we learn in this job!
We have several new wines for this quarter's shipment:
The 2015 Piedmont is a new wine for us in the tradition of our blended whites – Bedlam and Quartite. It is a blend of 47% Grüner Veltliner, 22% Albariño, 28% Viognier and 3% Syrah. It is both refreshing and complex, boasting aromas of honey suckle and pear, followed by crisp citrus flavors and a minerally finish. At only 181 cases produced, this wine will go largely jus to members.
Passeggiata IX is almost sold out for the year, so we are happy to include it in your spring wine club allotment before it is gone! This lively blend is perfect for the warm weather we hope is coming soon. It is fresh, and flavorful, medium-bodied, and a Black Ankle favorite.
Slate 3 is very well structured with sturdy tannins, robust fruit, and ample length, depth, and intensity. Every year at the blending table we hope to be able to create some wonderful Bordeaux-style blends. Our first rendition of Slate came about during our blending session in 2011, and this release is just the third time we have been able to produce a wine we want to call Slate since then. It was bottled on April 15th of this year, so it is very young in the bottle. We would recommend hiding it in the back of your wine cabinet (or closet!) for as long as you can wait!
The 2015 Terra Sol, although not included in this allotment, is worth talking about! In a few earlier letters, you may recall, we talked about our plans to experiment with making a late harvest wine from some of our Grüner Veltliner and Muscat last year, and this wine is the happy result of that experiment. It is dessert wine made in the tradition of late harvest wines around the world. The grapes are left to hang on the vine a month or more after the rest of the harvest has been taken in, in the hopes that botrytis, known romantically as noble rot, will take hold. The botrytis dehydrates the grapes, reducing the volume of juice by more than 70% but also concentrating the sugars, acids and flavors. Once the grapes are picked and carefully sorted and pressed, an achingly slow fermentation (6 months is typical) finally dies out, leaving much of the natural sugar in the wine. The result is a rich, delicate and tantalizing wine. Enjoy!
Cheers,
Sarah (and Ed)
Dear Wine Club Members,
Happy February and welcome back to Black Ankle Vineyards! Our winter closing was short this year, but just enough time for us to finish up a bit of the work that has been underway in the tasting room all year. While last year's look was what we liked to euphemistically call Construction Chic, this year, we are going for a slightly more comfortable, pulled-together feel. Finally!
Our new grotto room (formerly the wine storage cave) is finished and ready to welcome you with a cozy space and open fireplace. We have installed a new cork floor in the tasting room which should make life much more comfortable and help to tamp down the noise a bit. The stone-work on our new back patio is complete, and we are just waiting for some warmer days to make that the perfect space to kick back and relax with a glass of wine. We managed to cover up all the last bits of dangling straw hanging out of the walls (in case you had ever doubted what the walls were really made of, we wanted everyone to be able to get a good long look…). We have put a fresh coat of paint on the walls and voila!, the place has a whole new feel. There are still a few details to put in place, but it feels like we are making some real progress towards making our place more comfortable and welcoming to all of you and your guests. (Yes, more bathrooms are coming, I promise. You can peek out the back window to see their outline, and we will have them finished soon.) We appreciate your patience as we have gone through this process! And last but not least, for those of you with plug-in vehicles, we have installed 6 car chargers (3 general, 3 Tesla specific) just above the fire lane – with our total solar capacity now close to 90KW, you can come fill those batteries with Black Ankle Vineyards sunlight.
You may also notice a few new faces here consistently (and on social media)! We are excited to say that we have added three folks to Melissa's tasting room management team. These guys and the rest of our part-time tasting room crew will continue to provide you all with excellent customer service as we grow. A big welcome to Christina Calloway, Rebecca Serio, and Kaitlyn Rollyson. If you see them zipping around, give them a shout hello!
In other tasting room news, we are experimenting with adding a wine flights option. Of course, you can still come in any time to have a regular tasting, but we are also going to try out offering wine flights. These flights will include current wines, but they will also allow us to occasionally bring out a few favorites from the library to let you see how they are aging or give you a sneak preview of wines that have yet to be released. We think it will be a lot of fun to give everyone a chance to try something different now and then. The flights will be somewhat limited in supply, so it is best to reserve your spot in advance if you know you are coming. We will see how it goes for a few months, so let us know what you think.
So, now for a few details about some of this quarter's wines…
The 2014 Rolling Hills is 46 % Cabernet Sauvignon this year, with 26% Merlot, 21% Cabernet Franc, and 7% Petit Verdot. It is full-bodied, lively, and balanced with a lovely lingering finish. We have made a Bordeaux-Style blend called Rolling Hills almost every year, and it tends to be one of our most popular releases for red wine lovers.
For all you Slate fans out there, Feldspar II should be a favorite. A soft, beautiful wine which came together so nicely at blending. It's strong tannins and full mouth feel are supported by flavors of red fruit, black cherry, and light spice. This wine is drinking beautifully right now, but we expect it to have a good aging life, so don't hesitate to keep it for a while if you prefer.
The 2015 Albariño is full of flavor! For the first time in 2015, we blended our albariños with a bit of viognier to provide better balance (the albariño by itself seemed a bit too acidic and heavy). This wine in particular is a great food wine – in fact, in our February staff news letter we suggested pairing it with an appetizer called "Crabbies". Let us know if you want the recipe, but we should say it involves a lot of crab and butter!
The 2015 Grüner Veltliner is my favorite GV to date. After years of experimenting with the best way to grow and make this wine, we have discovered that even when the fruit looks like it is falling apart on the vine, the flavors are still developing. Leaving it to hang a bit longer in the vineyard yields a riper, more mouth-filling wine. After harvesting these grapes later than usual, we fermented the juice 100% in stainless steel to preserve its freshness and delicate aromas. It took a little extra nerve and patience to make this wine, but it has proved well worth it.
Cheers,
Sarah (and Ed)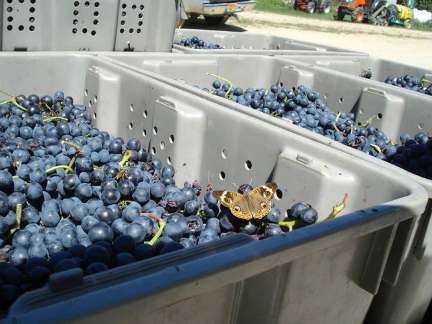 Dear Wine Club Members,
Happy August! We hope you are surviving the record-setting hot summer without too much strife. As miserable as the heat makes all of us humans, it's all good news for the grapes, so for us personally it is worth it. I hope next summer at this time you will be enjoying the fruits (or, more to the point, wines) of this season's warm weather and that will make up for any misery now.
One of these letters I am actually going to be able to report – "Yay!! The construction of the tasting room is complete!" Unfortunately, it is not this letter. The project is grinding along a bit more slowly than we had hoped it would due to the usual set-backs that will be familiar to you if you have ever taken on a renovation or construction project. I won't get into the boring details, but I promise we are working as hard as we can to move things along, and one of these days we will have a great new space available for all of you.
So, onto the good news. Grapes! One of the things that both Ed and I (Sarah) love about this project is that is gives many opportunities to experiment and try new things. When we were first learning about how to grow and make Grüner Veltliner I was lucky enough to spend 10 days exploring Austrian wine country and meeting with numerous growers. Austria is the home of GV and the Austrians have made an art out of making these wines for centuries. Grüner Veltliner is famous for its versatility – its ability to make interesting wines at many different levels of ripeness. Many Austrian growers allow their vines to set varied crop levels and will pick the same vineyard blocks in multiple passes to make different styles of wines from the same vines. This year, our younger GV, which we planted in 2011, is mature enough that we feel we can take on a few experiments of our own. We have decided to severely cut back the yield on our older planting (from 2004) and split our 2011 planting into two parts – one with a moderate crop and one with a relatively high crop that will be left on the vines for a sweet, late harvest wine. The idea is that we will end up with 3 very different wines. One should be a very concentrated, rich, dry table wine, one will be a lighter style (also delicious, but more on the refreshing side of the spectrum) and the last will be a super concentrated dessert wine, which we will only ferment partially so it will retain some sweetness and a very smooth mouthfeel. A lot of variables have to fall into place for this too all work out as planned (if the weather doesn't cooperate, we may lose all the late harvest grapes), but it will be interesting to see what comes of this experiment. We will keep you posted on our progress and, if all goes well, you will be able to taste the results in the next few years.
So, on to the wines in this quarter's shipment:
The 2015 Rosé is finally ready for release. We had a chance to visit Bandol in France this year, the home of French Rosé, where tasted some of the world's best, and we feel this wine holds up very well vs. those. Red fruit and flower aromatics give way to a smooth, long lasting wine with our signature roundness and concentration. Drink now through next year.
Our two 2015 Albariños are similar and yet different. Both are primarily from the same block of vines, but we experimented with the amount of leaves shading the bunches. The 2015 Albariño is made from the "sunny and warm" grapes, and shows real concentration and boldness. The 2015 Albariño Alegrìa is made primarily from the "shady and cool" grapes, and exhibits more delicate aromas and flavors. Both have some Viognier blended in to balance out the very high acidity we got in 2015, and it adds richness and body to both wines.
The 2013 Crumbling Rock is destined to be one of our finest efforts. 2013 was a great year for reds and we think that our signature Bordeaux-style blend is lives up to that and more. Concentrated, aromatic, rich, long, and smooth, the 2013 is still nimble enough to perform well on the dinner table. It is drinking very well right now, but for those of you who like to age your wines, this one has all the earmarks of a wine that will improve for a decade or more and drink well for many years beyond that. We have a decent but not inexhaustible supply (we made a shade under 600 cases) and you may add some more onto your wine clubs if you like. Caveat emptor - we will not make a 2014 Crumbling Rock, so it will be two years before we have more CR available.
Cheers,
Sarah (and Ed)