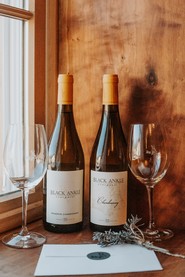 Boots Box: Chardonnay 2020 Horizontal
Last January, we launched a brand new subscription program called BOOTS! Now club members can add on a Boots bundle without subscribing!

Each BOOTS box includes a selection of 2 Black Ankle favorites paired with an educational and entertaining wine activity that people of all interest levels will enjoy. You will now have the option to add a BOOTS box onto your club allotment every quarter! Maybe you will want to share it with your friends at your next social gathering or perhaps it's a gift for yourself - either way, this curated experience will not disappoint. We promise!
For this Boots Box, we are featuring our 2020 Chardonnay and 2020 Reserve Chardonnay (not yet released!). This interactive activity will walk you through tasting two premium white wines side by side as a horizontal, all while learning about barrel fermentation.