April 1, 2020 | Ed Boyce
Spring Newsletter 2020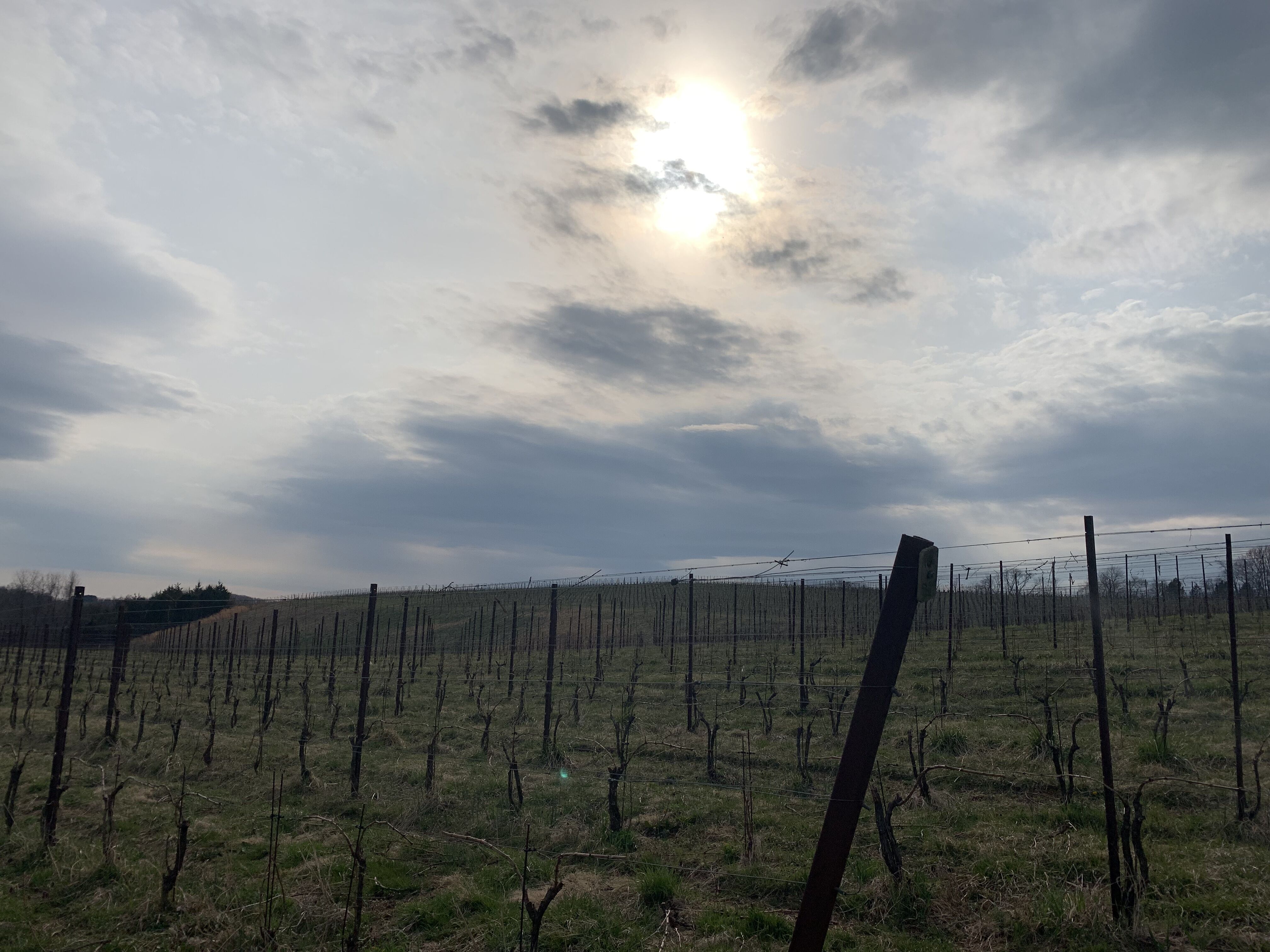 Spring 2020
Leaving BAV a better place than we found it.
We love our little corner of the world. From the time we bought this 146-acre piece of land we knew we had found a special place; an historic farmhouse nestled in a valley between two beautiful hills with expansive views of the mountains from the top. We also knew that we wanted to change the whole character of the place by planting acres and acres of grapevines and inviting the public in to share the experience of the farm, but we had to find a way to do all of that while making it even better than it was when we found it.
We decided to embrace that challenge with a basic philosophy: use what we have and keep it simple. This little idea (it seemed little at the time, anyway) has had an enormous effect on what BAV has become. Need to frame buildings to store barrels and host customers? Why not use our own trees and not bring in truckloads of boards?
Need electricity? Why not generate it onsite from our own sunshine? Need to reduce the heating/cooling load on the buildings? Why not use our home-grown straw for insulation and build window overhangs to block the sun in the summer but not in the winter? Want ripe, healthy grapes? Why not let wind and sun into the fruit zone by pulling leaves so we can minimize the need to spray?
Sometimes we feel a little bit old-fashioned in the way we do things, but choosing simple over complex, local over trucked in, and working with the land instead of against it has gotten us to the place we are today. We have brought many changes to the piece of land we bought in 2002, but we are pretty sure that it is a happier and better place now, especially when that space is filled up with so many of you enjoying it.
It is pretty quiet around here right now, but we know our little place will be filled with joy, energy and people having fun again soon.
Nothing will make us happier.
Cheers,
Ed (and Sarah)
Comments
GUY
@ May 23, 2020 at 7:20 AM
With Maryland shutting down with covid19, looking for any sense of normal and friendship has been difficult. But your virtual tastings, your emails, and occasional kind call from Karen Cool has let us know that we are not forgotten. We have enjoyed the wine tastings & club and look forward to returning soon. Stay safe
monika
@ Sep 4, 2020 at 2:11 AM
thank you for sharing this amazing article with us.. the way you expressed the things.. its outstanding
Jackson Wood
@ Sep 8, 2020 at 6:15 AM
Wow!! What a post, thank you so much for sharing this article...
Gorge
@ Sep 12, 2020 at 4:10 AM
Really nice post, thank you so much for sharing this article....
Jordan
@ Sep 16, 2020 at 5:03 AM
Thank you so much for sharing this post, I really liked it very much. Keep it up....I love Spring season
Ecoware
@ Mar 5, 2021 at 10:35 PM
such a great post
ssdvgws
@ Apr 14, 2021 at 3:01 AM
aaa
Escorts in Jaipur
@ Apr 28, 2021 at 4:25 AM
This is a titanic mixing article. I am a general sense content with your dumbfounding work. I truly love to structure such a stunning article.
Jaipur Escorts
@ Apr 28, 2021 at 4:26 AM
Thanks a ton for sharing it, that it has joined a ton to the degree anybody is worried about this point. Have an overall fulfilling day.
Call Girl in Udaipur
@ Apr 28, 2021 at 4:27 AM
This is an astonishing article. A dedication of thankfulness is totally to share this enlightening information. I will visit your blog, a scramble of the ideal open piece for some latest posts.
AirFleetRating
@ May 16, 2021 at 10:53 PM
Sao Paulo–Congonhas Airport IATA code is CGH. This airport earns a reputation for its modern architecture. The central part of the terminal has been undergoing a makeover since 2003 while maintaining the grandeur of its historical heritage.